The New Year will be a special one for me personally, and also for MarketClub.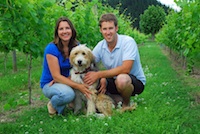 My daughter will be getting married on January 2nd and I will be traveling to New Zealand to attend. She is marrying a wonderful young man from New Zealand and they will be making their home and their future in that country. Anyone who is a parent can understand the joy I feel inside for my daughter and my future son-in-law.
I can't promise that I will be once again jumping off the Sky Tower building in New Zealand like I did last time, but I'll try to do something fun to share with everybody.
Continue reading "I am off "down under" again, and this time it's very special..." →