The last month or so has been an interesting one for Bitcoin (BITCOIN:BITSTAMPUSD) believers. No doubt you have heard about the collapse of Mt.Gox, the largest Bitcoin exchange in the world and the missing millions.
If the collapse of the Mt.Gox exchange was not enough, Newsweek announced to the world that they have tracked down the mystery man who they claim invented Bitcoin. The gentleman's name is Satoshi Nakamoto and it has long been assumed to be the pseudonym for the man (or woman) who created Bitcoin. Satoshi Nakamoto subsequently denied that he was the brains behind Bitcoin, so the mystery continues, or does it? You would think with a major Bitcoin exchange collapsing, all the controversy and lost funds, Bitcoin would have collapsed to zero, as everyone rushes to cash out their virtual currency.
But oh no, the opposite appears to be happening when you view the recent Bitcoin (BITCOIN:BITSTAMPUSD) market action. One thing is for sure, the Bitcoin market is not going down anytime soon based on the technical charts that I look at.
This is a follow up post to my earlier Bitcoin post. Now you can see Bitcoin charts and quotes on MarketClub and on our public website, INO.com. The truth is, Bitcoin trades just like any other market, including gold.
Is Bitcoin the new gold standard?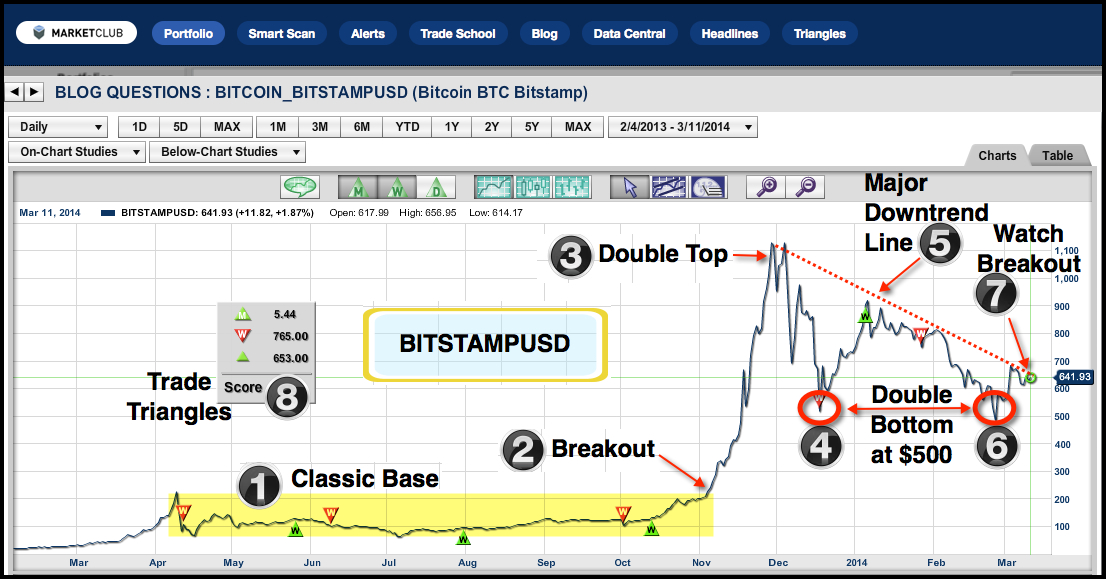 Chart Legend & Technical Picture For BITSTAMPUSD (Black Numbers)
1. Classic base
2. Classic chart breakout
3. Double top
4. Double bottom
5. Downtrend line
6. Double bottom
7. Watch for breakout
8. Trade Triangles
Bitcoin (BITCOIN:BITSTAMPUSD) technically looks a lot like gold did after it made its double bottom last December. The key level to watch in this market is a break over (5) on the chart. Any move over $700 should be viewed as extremely bullish for Bitcoin, signalling a move to test the $1,000 area.
Every success with MarketClub,
Adam Hewison
President, INO.com
Co-Creator, MarketClub