Stocks are trading close to all-time highs and valuations are well above average with a P/E of 19.72 compared to the historic median of 14.57. At first glance, it might seem as if there's no value to be had in this market, but when one asset class thrives, it generally means another is struggling.
Right now, commodities are the unloved asset class by investors. A strong U.S. dollar and booming stock market have driven prices lower as demand favors equities. However, the tide could be on the verge of turning, putting one precious metal in a position to flourish.
A bright outlook for silver prices
For contrarian investors, silver looks like a bargain right now. This chart shows silvers prices at 5-year lows – a good sign for those looking for value opportunities.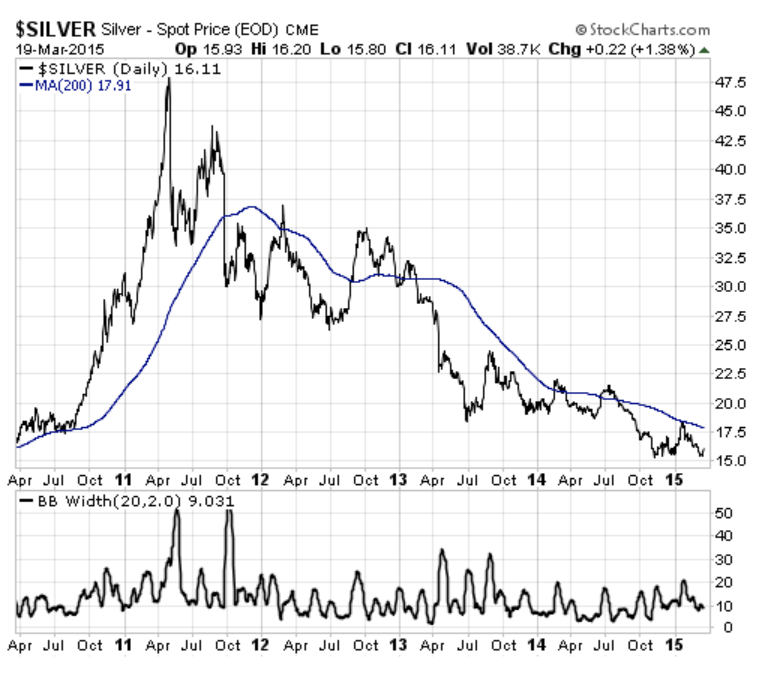 Chart courtesy of StockCharts.com
Now take a look at the signals silver is giving investors right now. It's trading below it's 200-day moving average of $17.91 which is a sign that's it's being undervalued. What's more important though is what the Bollinger Band Width is saying. It tracks volatility and identifies when a potential squeeze might occur. Hovering at around 10, less than its 200-day moving average, it could be a signal that silver is getting ready to rally to the upside. Continue reading "This Shiny Metal Could Be In Bargain Territory For Value Investors" →