Today, I'm going to be focusing on gold (FOREX:XAUUSDO). It would appear as though this market had a number of cycles that are coming due and some that have just passed. It also looks as though all of the problems in the world haven't had any real powerful effect on gold. Normally in times of uncertainty, gold has been the go-to asset for most investors, but for some reason, not this time.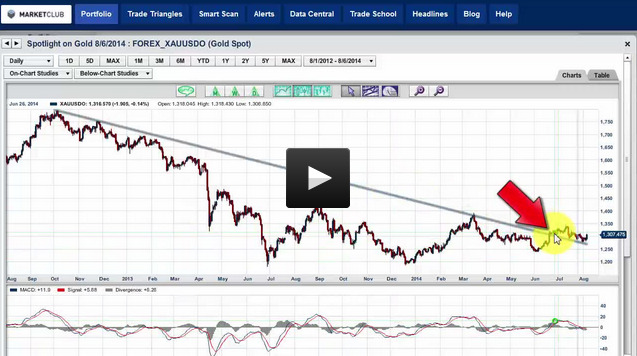 With today's strong upward market action, there have been a couple of technical indicators click over to the upside, these indicators are the forerunners of a larger, more extended move to the middle of September. By mid-September, gold could be trading at the $1,420-$1,430 level, if all of the technical indicators line up.
For many traders, gold has been somewhat of a disappointment in 2014, even though it is plus some $70 for the year. Many gold bugs were expecting much higher levels by this time, given all of the uncertainties with the banks and conflicts around the world.
The next 4 to 6 weeks could be very exciting in this precious metal and I expect this excitement to come in the form of a move to the upside. In this detailed video, I will show you exactly where the cycles are, plus the technical indicators that I'm watching closely for further confirming evidence that a bull move is underway.
Every success with MarketClub,
Adam Hewison
President, INO.com
Co-Creator, MarketClub