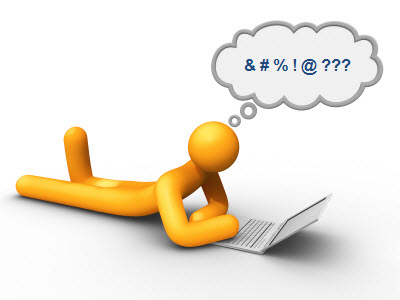 Chances are unless you grew up in the north of England (Newcastle to be exact,) you wouldn't understand the language of the Geordies.
I recently posted on this blog some highlights from my holiday down under and in part of that blog posting I mentioned that I was from Newcastle-upon-Tyne. Well, as we all know the web is an amazing tool and it wasn't long before one of our members, who is also a Geordie, commented with some real Geordie talk.
I'm going to include his comment in this post to demonstrate a point that will be a little clearer later in this blog posting. You will probably not understand what follows, and that's okay, because I think it is a pretty fair bet that the chances of you going to Newcastle upon Tyne are pretty slim.
See if you can understand this?
Weh ye buggar mar, ah did'n nah yeh weor wone of the canny lads from the toon? De ye iver sing blaydon races noo and de ye get yeor broon sent ower.
Translation here:

(Queens English): Oh what a surprise, I was not aware you were a gentleman from Newcastle upon Tyne. Do you ever sing Blaydon Races now and do you have your Newcastle Brown Ale imported?
The point of this little exercise is that you need to understand what the market is telling you. In order to do that you must learn the language of the market.
I'm often amazed at folks who jump headfirst into the market not understanding this one simple premise. Only when you understand the rhythm and cadence of the different markets can you begin to be successful.
All markets have a rhythm and beat to them. Our mission at MarketClub is to help you understand them. For those of you who are new to this blog, we do that with our "Trade Triangle" technology. This approach has served MarketClub members very well and you can see that in our Saturday Success Stories.
If you're not familiar with MarketClub, you may want to watch this feature packed video explaining many of the powerful, easy-to-use features that make up this service.
As a way of thanking you for using our website I want to make this PDF document available to you for download. It's called "Walk the Walk, Trade the Trade and Talk the Talk" download is a PDF. This in-depth PDF gives you all the definitions of the market that you need in your educational journey towards successful trading. I also invite you to attend Friday's free "Beginner's Trading Terminology" webinar to further help you understand the language of the market. Space is limited, so click here to register and reserve your seat.
In the mean time, feel free to download this document today, print it out, or read it online. The important thing to remember it's easier to learn the language of the market than to learn how to speak Geordie.
All the best,
Adam Hewison
President, INO.com
Co-creator, MarketClub