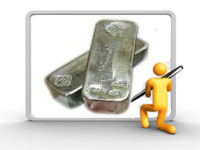 Late in 2009 a lot of folks began asking us about buying silver instead of gold. At the time, we stated exactly how we felt, in that, why would you try to buy something that is not in the same league as gold? The two markets are completely different and are driven by a different set of emotions and fundamentals.
This is the first video that I've done on silver in quite some time, but I think it's an important one for you to see.
One of the standout features that I noticed was the fact that when gold was making new all-time highs in early December, silver failed to take out the March 2008 high. I consider this to be a negative.
In this short video you will very quickly see how we feel about silver and how you can benefit from looking at this market from a different perspective.
As always our videos are free to watch and there are no registration requirements.
I hope you find this video both informative, educational, and enjoyable and that you have time to comment on blog about this video.
All the best,
Adam Hewison
President, INO.com
Co-creator, MarketClub