Thank you to all those who attended last Friday's "Perfect Portfolio" webinar. This webinar was recorded and will be available soon on our "Bonuses & Videos" page. We have also put together an FAQ pdf document for this portfolio which you can click here to download.
I'd also like to thank everyone for patiently waiting for the forex webinar video. There were some technical difficulties that prevented us from posting it much earlier, but it has now been added to the "Bonuses & Videos" page as well.
This week's weeks webinar, entitled "Beginner's Trading Terminology" will be great for those of you who are new to trading or interested in beginning, but are confused by all of the jargon that gets tossed around. As Adam said in his post earlier today, you have to understand the language of the market before you can understand what it is telling you.
To register or read more about any of the scheduled webinars, simply click on one of the links below: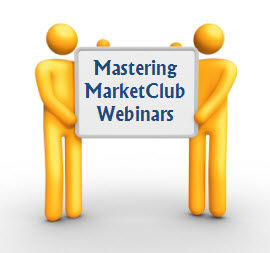 As always, we're interested in your feedback and suggestions which you can send to [email protected].
I hope to see you all in future webinar presentations!
Best,
Susan Jackson
Director of MarketClub Education
INO.com & MarketClub