Today's guest is Gary Wagner featured Trend TV author and founder of Wfgforex.com. Gary is going to share with us part 3 of his  "Gold and the New Technical Triad" with traders blog readers. Be sure to comment with your thoughts on the gold market.
--------------------------------------------------------------------------------------------------------------------------------------------------------------------------------------
Gold which has been trading higher the past few weeks is, I believe, is in a correction within a corrective phase. That is to say it is going against the short term trend as it moves higher. I am fundamentally extremely bullish on gold, and in fact believe that it will surpass 1265 and trade to 1300 an ounce. However, before we get there I think we will need to weather one last correction.
In this, part three of a blog I began on may 13, 2010, we've followed gold as it now enters the final portion of this corrective phase. I believe that in the proper hands, wave theory will provide genuine and relevant market insights, and in the wrong hands will enable a lot of skeptic's added reasons to doubt this technique. For those who have are skeptical about the relevance of Elliot wave, I hope that this blog might cause you to re-examine this technique again.
Ralph Nelson Elliot knew that there was a rhythmic regularity found in all things.  What we call a cycle is simply that there is a phenomenon of repetition or "rhythmic reoccurrence" which is prevalent in nature. Elliot believed that these cycles where not only found in nature but also in all activities of man, including finance. It is from this assumption that he was able to theorize and create a model for his wave principle. According to this theory, markets will always move in a cycle or pattern. This concept is the cornerstone of his "Wave Theory."
One complete cycle is made up of eight waves, which are then divided into 2 main phases; the impulse and corrective phases. The impulse phase moves in the direction of the trend, while the corrective phase moves opposite that prevailing trend.  This cycle will continue until the current trend is exhausted.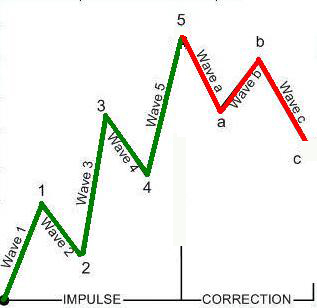 The impulse phase, also called a full wave, is composed of 5 impulses. Three move in the direction of the trend (waves 1, 3 & 5), and two against the trend (waves 2 & 4). The corrective phase consists of 3 waves; A, B & C. Waves A and C will move in the opposite direction of the primary trend and the B wave in the direction of the primary trend.
During part one of this blog on May 13, 2010, Forex gold was trading just about 1215. It was then in the longest of the impulse waves, wave 3. Figure 2 is a daily chart of Forex gold, starting with wave 1. This wave will always be the benchmark by which the other impulse waves are measured. Using a simple calculation, which states that wave 3 should be about 1.61 the size of wave one (wave 1 was $100.00). We projected the top of this wave at 1246 (1085 +161). The top turned out to be 1248. Using this same forecasting model on wave 5, wave theory again was able to provide us with great insight. Again using a simple calculation, which states that wave 5 should be about equal the size of wave one. We projected the top of this wave at 1265 (1165 +100). The top turned out to be 1265.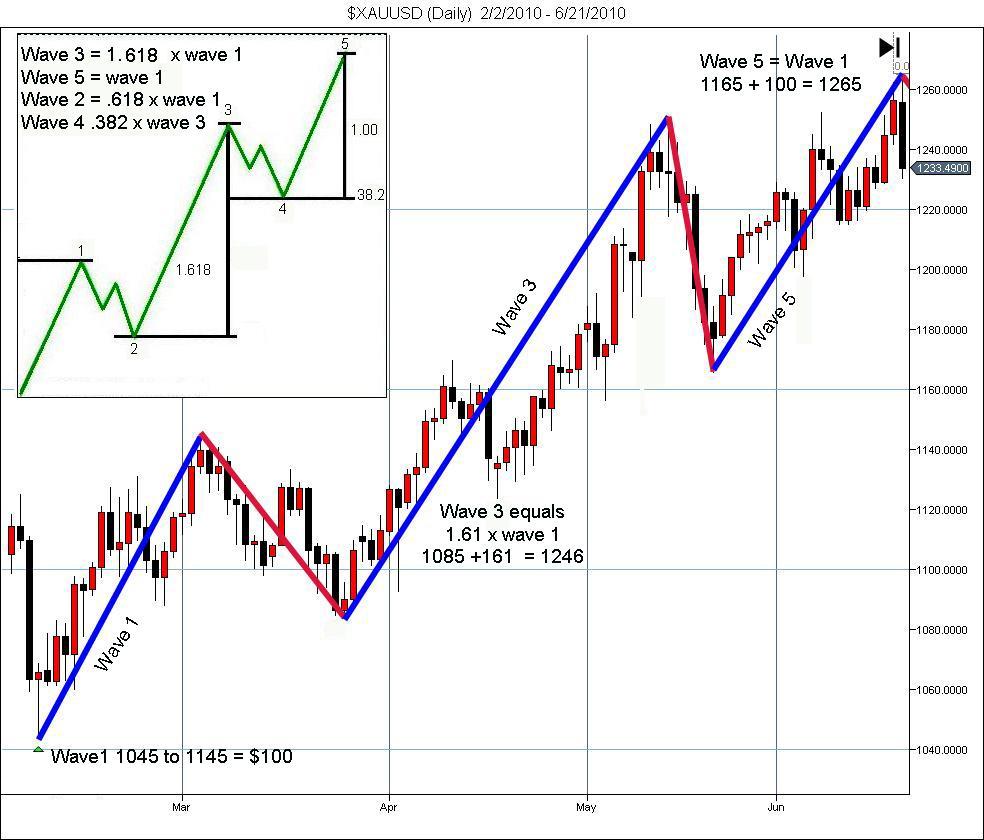 Figure 3 is a weekly Forex gold candlestick chart. Currently we are in a corrective phase. It might not seem like it with the market just $40 dollars shy of the new historical high of 1265. I find it interesting that the top to wave 5 formed a perfect Northern Doji cross (figure 3a) which became a "Three River Evening Star" (figure 3b) the next week when a black candle formed.
This weekly chart takes us to our present day market. Wave 5 ended at the point in which gold trade to a new historical high of 1265. By looking the Fibonacci retracement of wave 5, we can see that a bottom of the first corrective wave "A" formed at just about 50 %. A candlestick called a Hammer (figure 3c) signaled the start of wave B, our current wave. Currently (8-16-2010) it is trading at 1226, it is well above the 61 % retracement of the "A" wave and looks as though if it does not correct here, it might be headed to test the 78% retracement level of wave "A" at 1237.
At this point it might appear as if gold will go to test historical high, unless we consider the wave count.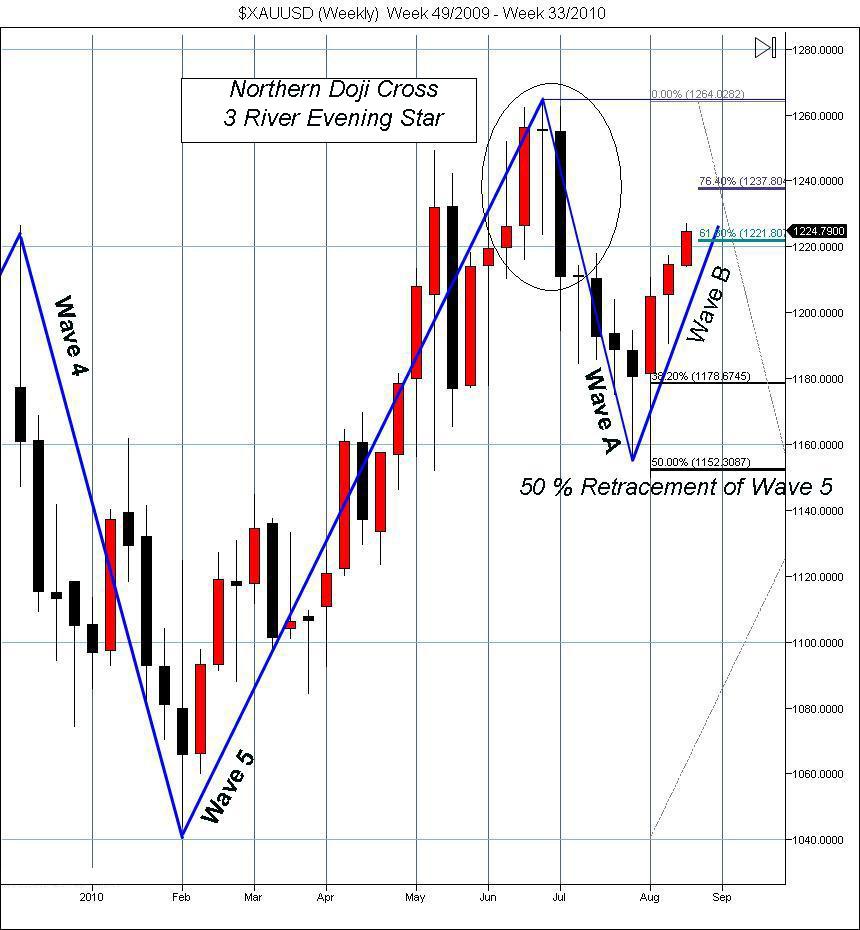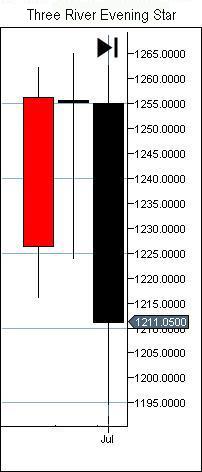 Now that wave A has ended and wave "B" is fully in place, we can plot a much better projection of the final possibilities of this corrective phase. If the Elliot wave count continues to effectively track gold prices then we can expect one more corrective wave, the final "C" Wave. This will take place at the conclusion of wave B. The "B" wave will typically end somewhere between the 50 and 75 % retracement of the "A" Wave. Currently trading just above the 50 % retracement of "A", we will have to see where it finally tops. Figures 4a through 4c are weekly gold charts, they all postulate possible scenarios for this final corrective wave.
Figures 4a is an example of a flat correction. The key to this correction type is that both the A and C waves have similar lows.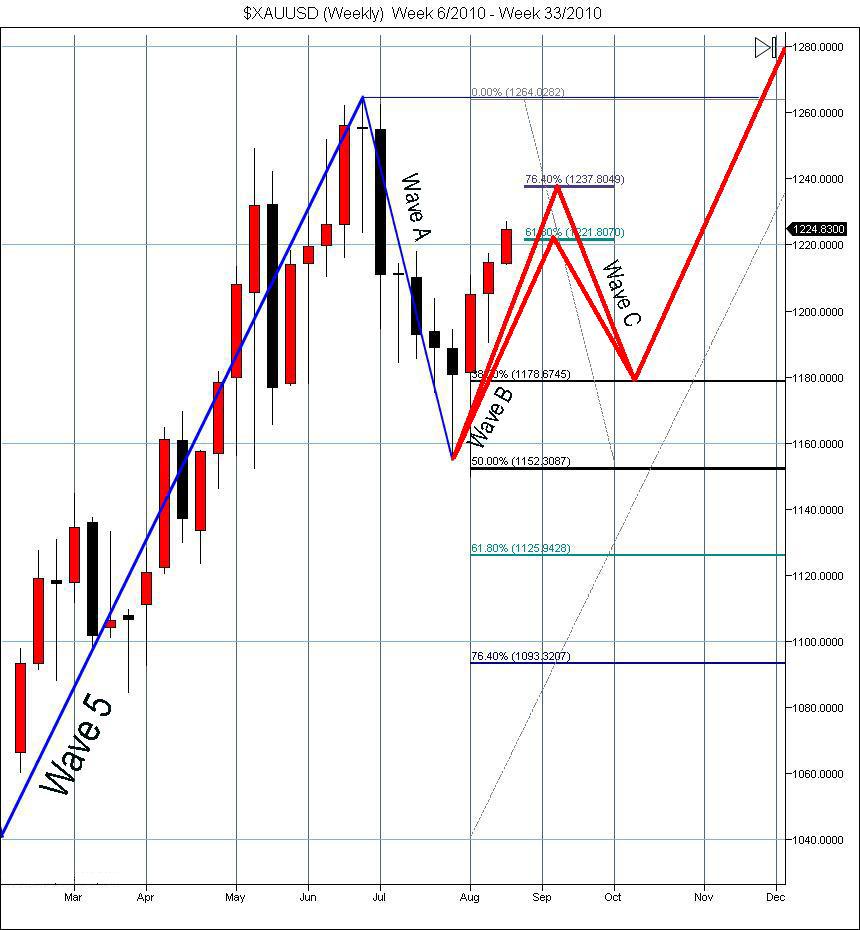 Figure 4b is an example of an irregular correction. Just as the name states this correction falls outside the expected guidelines of a traditional correction.  In this example wave C's low is above the low of wave A. Another type of irregular correction would be if the current B wave made a new high, above that of the last wave 5's high.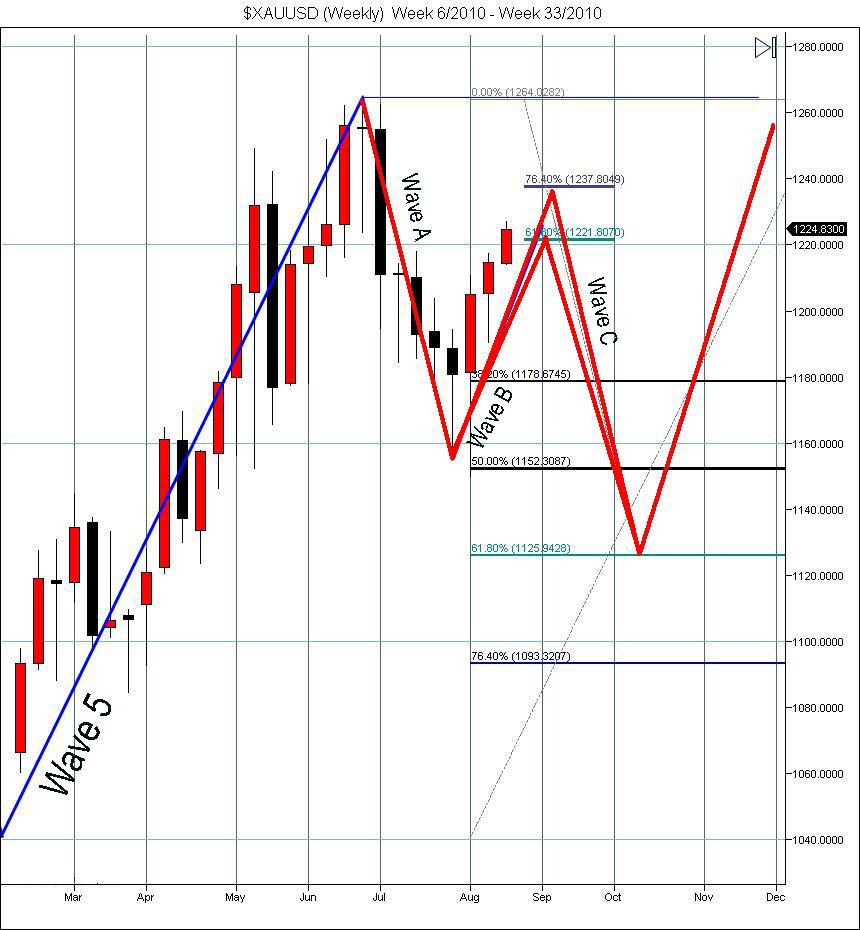 Finally in figure 4 c, we see the mother of all corrections, the standard zig-zag. Because of my fundamentally bullish take on gold, I think this is the least likely of these three scenarios. A standard zig-zag must make a lower low than the low of the first corrective wave "A".
I know that some might think I am a contrarian after reading this blog. How can anyone be bearish on gold at a time like this, when the market is clearly moving up? As I said fundamentally I am a gold bull, but technically I think that this correction might have 1 more corrective wave after the conclusion of this current B wave. Markets rarely move straight up or down. This current Bull Run in gold is 5 years old and I think it is far from over. However, we need to pay attention to the signs along the way, and know when strategically enter and exit the market.
Here's to your trading success,
Gary S. Wagner
wfgforex.com
Gary S. Wagner a technical market analyst for twenty five years is the executive producer a daily video newsletter "The Gold Forecast tm" for wfgforex.com. He is the Co-author of "Trading Applications of Japanese Candlestick Charting".  A frequent writer for Technical Analysis of Stocks & Commodities magazine, he also Co-developed software applications for market forecasting. Gary can be reached at [email protected]