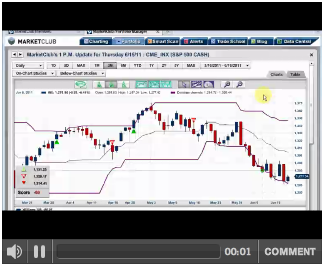 Hello traders everywhere, Adam Hewison here co-founder of MarketClub with your 1 p.m. market update for Thursday the 16th of June.
I ask myself this question this morning, what is going to put this market higher? The market action itself is not positive and the confidence level to drive the markets higher doesn't appear to be there in any large measure. The markets are rapidly drawing a line in the sand and when that line is broken and if you watch this show, I will tell you when. It's going to be every man and woman for himself. Get prepared for some extraordinary trading opportunities in the not to distant future.
Okay, now here's what's happening right now in the major markets ...
S&P 500: -60. The market action on Wednesday can only be described as negative. Tomorrow is going to be the key day for this market, a close lower than Wednesday's close should be viewed as extremely negative in my view. Major downside support is at 1250.
Silver:-60. I would watch this market very carefully as I feel that it is probably at the lower end of its range. We would use the Donchian channels as support. We may bounce around for another couple of weeks but come July I think we'll see this market on the move. Market is oversold and expect to see a bounce from current levels. Major Support at $34.00.
Gold: +80 All systems are go for gold and we expect this market to do better. We may continue in a tight range for a while but look for this market to make new highs in Q3. The lower Donchian channel comes in at $1,513 today. Major support at $1,500.
Crude Oil: -85 Crude was pushed down yesterday and broke through support and it would look as though this market could be a little bit more on the defensive as the view of the world economic conditions is contracting. I would not be in such a rush to buy this market today and I would wait for our trade triangle technology to kick in on the positive side before taking a long position.
The Dollar Index: +65. Despite yesterday's strong dollar rally this index and our longer term and mid term Trade Triangles remain negative. Resistance now at 76.00. The dollar index is now in overbought territory. Minor support at 74.00 Major support at 73.00.
The Thomson Reuters/Jefferies CRB Commodity Index: +55. This index is in an oversold condition and we expect to see further backing and filling. Near-term resistance at 345.00. Donchian channel support at 335.83. Market still appears to be in a broad trading range.
Click here to watch the 1pm Update for Thursday, June 16th, 2011.