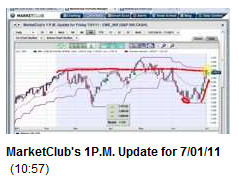 Hello traders everywhere, Adam Hewison here co-founder of MarketClub with your 1 p.m. market update for Friday the 1st of July.
I just got back from a business trip to Utah I will tell you all about that trip in a later broadcast. But right now all I can say is what a difference a week makes.
This week on Wednesday to be precise the S&P 500 gave you a strong buy signal with our weekly green trade triangle. Since that time it has done nothing but go higher.
Before I left I underscored how several markets were heavily oversold and at the lower levels of the Donchian trade channels. What this meant was that there was a strong probability that we would see a bounce in both the equity crude oil, and CRB index. That rally took place in the past few days. So what is going to happen now?
Let's go to the markets right now and see what is happening today.
S&P 500: +100. The S&P 500 has rallied sharply from an oversold condition and from the bottom levels of the Donchian trade channel. This market has had problems between the $1,330 and $1,340 level on several occasions in the past. I would be surprised to see this market breeze over these levels given the fact that is now overbought. Resistance at $1,340. Support at $1,300.
Silver:-70. This market is heading for a test of the lower levels of the Donchian trading channel. Look for support to come in around $33.00 for this market.
Gold: -70. The major support level $1,480 that we outlined in my previous update on 6/24 held market today. We would look for this level to be an important support level for gold. Resistance should come into this market between $1,500 and $1,510.
Crude Oil: -85 the bounce that we have seen in the crude oil market was from important Fibonacci retracement level in the market is now pretty much where it was before the 30 million barrel dump from the strategic reserves. It is probably clear to all that this was simply a symbolic political move. The trend is down based on our Trade Triangle technology. Look for resistance around the $96 a barrel level.
The Dollar Index: -100. This market remains trapped in a broad trading range bounded by the June highs and the June lows. Support at $73.50 and resistance at $76.00. This index is however oversold.
Thomson Reuters/Jefferies CRB Commodity Index: -85. As the price of oil goes so goes this index. I mentioned in my last broadcast on 6/24 that the market was indeed oversold and at the lower end of the Donchian trade channel and that we expected a bounce. This indeed happened as crude oil rallied and pulled up this index. The Williams %R is in mid-range which means that we are likely to stay in a trading range for a while longer. However the trade triangles are negative on this index at the moment.