If you follow our blog, then you are definitely familiar with trader Larry Levin, President of Trading Advantage LLC. We have gotten such a great response from some of his past posts that he has agreed to share one more of his favorite trading tips as a special treat to our viewers. Determining the direction of the market can be tricky and just plain confusing at times, but Larry's expert opinion keeps it simple and straight-to-the-point. If you like this article, Larry's also agreed to give you free access to one of his top trading secrets.
I think it's time for another look at Japanese candlestick analysis. Let's take a closer look at kicking, widely considered a high reliability pattern in candlestick charts.
Kicking patterns are another reversal signal.
Kicking patterns on a candlestick chart are formed when there are two marubozu - one white and one black - with a gap between them. Bullish kicking patterns would present as a black or filled candlestick without any wicks (shadows) followed by a gap higher with a white or hollow candlestick that is also without wicks. These are marubozu. They are formed when the market has a particularly one-sided trading session that closes at the high or low leaving just that real body of the candlestick.
In candlestick charts, kicking patterns are very rare.
The two marubozu back to back but at polar opposites in terms of market direction are obviously going to be uncommon. They reflect strong trading sentiment and to see that in two consecutive sessions would likely point to some kind of strong fundamental shift. Like most candlestick patterns, you would want to investigate what is going on behind the scenes before completing any analysis. Historically, there are no restrictions on where the kicking pattern would show up in relation to the beginning, middle or end of a trend.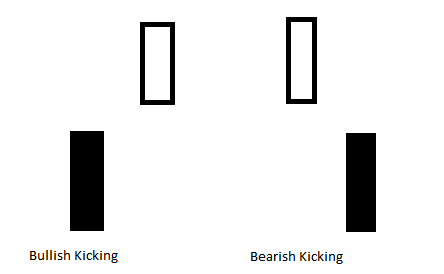 This two-bar pattern is "kicking" away the previous price trend.
This signal is not necessarily a place to enter or exit - it is merely a sign that there is a pending reversal possible. The higher probability that candlestick analysts place on this one suggests that there is a strong chance of that reversal, but as always, you will want to wait for confirmation. Alternately, you could use this candlestick pattern with complementary analysis to plan a trade, relying on a signal like this as confirmation of your other fundamental and technical observations. Trading volume is among those complementary items to keep in your toolbox for this one. An increase in volume on the second candle would be a good thing for a kicking pattern.
Click here to see one of Larry's top trading secrets!
Best Trades to you,
Larry Levin
Founder & President- Trading Advantage
[email protected]
Disclaimer: Trading in futures and options involves a substantial degree of a risk of loss and is not suitable for all investors. Past performance is not necessarily indicative of future results.