Each Week Lo

ngleaftrading.com will be providing us a chart of the week as analyzed by a member of their team. We hope that you enjoy and learn from this new feature.
Weekly Gold Report (April 1 through April 5th)
After reviewing notes and performance from last week in the markets, one cannot help but be impressed by the US stock indexes. Despite reaching record levels on the charts, despite mediocre reports, and despite continued concerns about the ripple effect of Cyprus, the buy switch continued to stay on. The same big question still remains, "when will the market retrace"?
I believe that the stock indexes in the US will begin a gradual decline once European news begins to flow again. It has been too long since we heard the likes of Angela Merkel, Francois Hollande, and Mario Draghi. I think back to last year when these three may as well have been the President, Vice President, and Speaker of the House in the US with all of the press they had here. Yet suddenly, they have seemingly disappeared from all news lately.
This week, that may change as we are scheduled for several reports from Europe that should have an impact on markets before the Unemployment Report in the US at the end of the week. Be on the lookout early Tuesday morning for manufacturing data out of Germany, Spain, France and Italy as well as Consumer Price Index in Germany. On Thursday Europe also has an Interest Rate Decision which will likely report as unchanged, but it always important to keep track of the language used after the decision as forecasts are made that normally provide directional movement in the Euro. If these reports are bad, it should drag on markets across the board. Past Thursdays European reports, all eyes will focus on the Non Farm Payroll here in the States because we found out recently that the FED is still basing much of their future participation on the unemployment rate.
The plan for the week would be to look for shorter term trades in the markets ahead of Thursday and Fridays numbers as I anticipate quite a bit of positioning leading up to the last two days of the week. Once the Interest Rate Decision and Unemployment figures are in, we should have enough information to base a longer term trade from.
The June Gold Futures continue to be relatively quiet. In the month of March, Gold futures only traded in a $60 range and have been too quiet for my taste. One can only assume Gold prices have been quiet lately because so much emphasis has been put on the stock indexes and the recent climb in the US Dollar. Until we have all of this week's data behind us, I am reluctant to commit to a direction in Gold. If somehow prices happened to dip below the March low near $1560, and found support closer to $1550, only then  would I be interested in looking at long positions.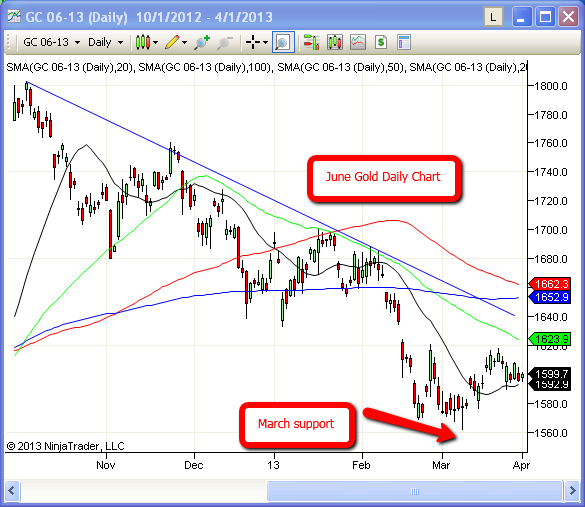 Thank you for your interest,
Brian Booth
Senior Market Strategist
[email protected]
888.272.6926
** There is a substantial risk of loss in trading futures and options. Past performance is not indicative of future results. The information and data contained in this article was obtained from sources considered reliable. Their accuracy or completeness is not guaranteed. Information provided in this article is not to be deemed as an offer or solicitation with respect to the sale or purchase of any securities or commodities. Any decision to purchase or sell as a result of the opinions expressed in this article will be the full responsibility of the person authorizing such transaction.