We've asked our friend Jim Robinson of profittrading.com to provide his expert analysis of charts to our readers. Each week he'll be be analyzing a different chart using the Trade Triangles and his experience.
Today he is going to take a look at the technical picture of the GBPUSD Forex Pair (GBPUSD).
Today let's take a look at the GBPUSD, which is possibly setting up a good opportunity to go long.
The GBPUSD is probably making a Head and Shoulders bottom and if it breaks out above the Neckline that would be a very bullish sign that this pair is heading higher.
With Forex MarketClub uses the weekly Trade Triangle for trend direction and MarketClub uses the daily Trade Triangle for timing, so if the GBPUSD puts in a green daily Trade Triangle, we could consider going long.
The MACD is rising and if the GBPUSD continues higher, the MACD will move through the zero line.
When the MACD moves above the zero line it suggests the longer term trend is turning bullish.
So a trading opportunity looks to be at hand for the GBPUSD, which makes this a GREAT Chart to Watch !!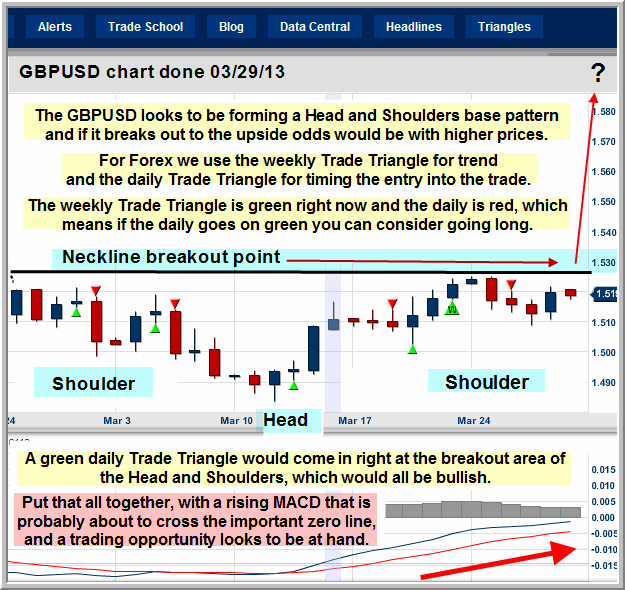 Thanks,
Jim Robinson
Profit Trading.com