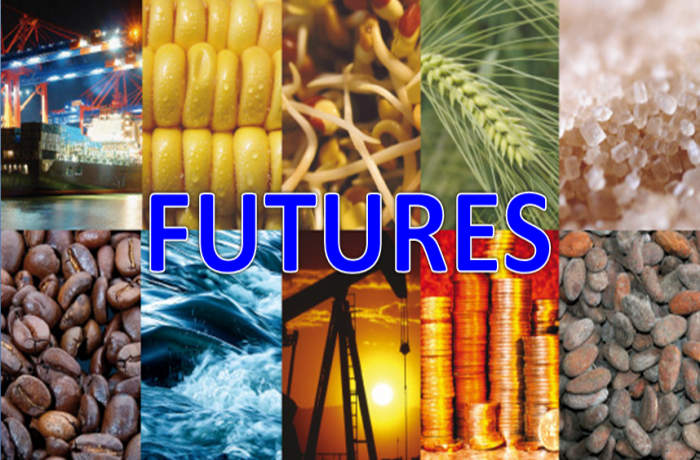 We've asked Michael Seery of SEERYFUTURES.COM to give our INO readers a weekly recap of the Futures market. He has been Senior Analyst for close to 15 years and has extensive knowledge of all of the commodity and option markets.
Michael frequently appears on multiple business networks including Bloomberg news, Fox Business, CNBC Worldwide, CNN Business, and Bloomberg TV. He is also a guest on First Business, which is a national and internationally syndicated business show.
Precious Metal Futures-- The precious metals today were lower across the board after rallying sharply higher in early trade only to reverse and sell off towards the closing bell finishing lower for the 1st time in 4 trading sessions finishing down $8 an ounce in the June contract at 1,454. There has been extreme volatility lately finishing higher by $60 dollars for the week bucking its bearish trend and as I've been stating in previous blogs I remain bearish the precious metals, however I do believe gold will remain choppy and try to consolidate the huge collapse that we saw last week. Gold futures are currently still at 1 1/2 year lows which is also pushing silver down $.30 in the July contract at 23.82 an ounce finishing up slightly for the trading week and is now trading over $4 from its 20 day moving average and over $8 from its 100 day moving average and as I've stated before the further away you trade for moving averages the stronger the trend and I do believe there could be a possible retest of $21 which was last week's low here in the next week or so as commodity prices continue to be weak as money continues to flow into the S&P 500 and U.S treasuries. Copper futures which I have been extremely bearish down another 600 points at 3.18 a pound and is now sharply lower than its 20 and 100 day moving average hitting a 1 1/2 half year low and if prices break 3.00 you are looking at  fresh 3 year lows as record inventories are putting pressure on prices . In my opinion I believe copper prices are headed sharply lower from these levels and I'm advising traders to be short the entire precious metal sector with the strongest leader to the downside in copper. Copper futures also have a mini contract which is $125 a point which is better suited for some smaller accounts or traders want to take on less risk so I am still advising to stay short this sector as money is rotating out of the precious metals into the S&P 500 as earnings have been very strong once again.TREND: LOWER –CHART STRUCTURE: TERRIBLE
Grain Futures--- The grain market was mixed in the new crop grains today continuing their bearish momentum despite the fact that there has been a record freeze and the coldest start ever wheat growing areas of Kansas and the Great Plains which could damage some of the U.S crops as the U.S farmers are the largest exporter in the world and might abandon around 25% of their hard red winter wheat which is the most common variety grown and that would be the most since the drought of 2006 which could initiate a rally in the new crop wheat later in the spring. The grain market doesn't seem to be listening to this fundamental news with wheat down another $.13 continuing its bearish movement at 6.90 a bushel in the July contract also pushing December corn down to a new contract low at 5.23 a bushel down another $.8 as I've been stating in many previous blogs I am extremely bearish the grain market. I am a technical trader not a fundamental trader so prices look to me that they're going to head sharply lower from these levels and I'm still recommending short positions across the board. November soybeans were higher for the 2nd consecutive trading session trading up 5 cents and reversing earlier losses to settle at 12.10 heading towards major support at 11.80 and the contract low of 11.40 in my opinion I think we will be there in the next couple of weeks. The planting situation in corn is pretty poor at this point with many states not even planting anything yet while you think that would be bullish especially when the state of Illinois which is a huge corn grower is currently at 1% planted, however traders are expecting warm and dry weather and farmers back in the field and able to make up the difference quickly. With a 15.5 billion crop possibly coming in October prices still could head sharply lower from these levels. If you are a farmer I strongly recommend this year to be hedging your crops because there could be a significant price drop. Prices could even get much uglier and if you at least by put protection underneath to guarantee a certain price you will be able to sleep at night not worry about at collapsing price with many of the commodity markets sharply lower once again today as the trend continues to sell commodities and buy U.S treasuries and the S&P 500.TREND: LOWER –CHART STRUCTURE: EXCELLENT
Energy Futures--- The energy market continued their volatile trade this week with crude oil rallying over $8 dollars from last week's lows finishing down 50 cents a barrel at 93.10 and as I've been recommending in many previous blogs I think the energy sector is outrageously overpriced especially in crude oil with 23 year high inventory levels & waning demand and deflation across the globe especially in China pushing prices sharply lower once again and I do believe that crude oil will be trading at $75 a barrel within the next couple of weeks in my opinion. Unleaded gasoline which finished higher for the 3rd straight trading session rallied slightly today by 150 points at 2.83 a gallon with the next major support at 2.50 which is still quite a distance away and I still believe we are headed to those levels. Heating oil finished higher by 30 points in the May contract at 2.89 a gallon and if anybody has been listening to me in previous blogs I am extremely bearish heating oil as we enter the summer months with huge supplies going into summer when heating oil demand is at its lowest with a general malaise in the commodity markets as investors are fearing prices could head much lower remembering the fact that these prices are still elevated over the 10 year average. In my opinion I'm still recommending short positions in every single commodity especially in crude oil because I believe there is significant downside to this sector.Remember you when you trade commodities you will be wrong sometimes so you must put a stop loss and not marry your position because never getting out causes exaggerated monetary losses so always risk between 1-2% of your account balance on any given trade trying to minimize risk. TREND: LOWER –CHART STRUCTURE: TERRIBLE
Coffee Futures--- Coffee futures in New York today are down 340 points currently trading at 133.65 a pound hitting a new 2 ½ year low on waning demand and increasing supplies trading below its 20 and 100 day moving average trading lower by nearly 800 points for the trading week . Coffee futures hit a 4 week high only to come right back down and break contract lows and it looks to me that prices are headed down to the 120 level in the next couple of weeks. As I've stated in many previous blogs I am bearish the commodity markets because I do believe that deflation is in the air and lower prices are ahead for the next 4 to 8 weeks. I'm advising traders to go short coffee placing a stop above the 10 day high in case the trend does change therefore minimizing your risk.TREND: LOWER –CHART STRUCTURE: EXCELLENT
Cocoa Futures--Cocoa futures are rallying despite a pessimistic commodity market this afternoon up another 6 points in the July contract currently trading at 2366 while finishing higher by nearly 40 points for the week trading above its 20 & 100 day moving average hitting a 4 month high with excellent chart structure looking to test major resistance at 2450 and is probably one of the only bull market's out of the entire commodity sector at this point. Cocoa prices bottomed about 6 weeks ago as the West African harvest has been completed so there could be a seasonal low as traders are expecting less production of cocoa next year pushing prices higher once again as I've been advising traders to be long cocoa placing a stop below the 10 day low therefore booking profits in case the trend does change. The one fact that makes me nervous about the cocoa market is that I'm very pessimistic about all of the commodities and if they continue to fall  eventually that could put some pressure on cocoa but right now it is showing some real strength and the trend is your friend so I would still stay with long positions.TREND: HIGHER –CHART STRUCTURE: EXCELLENT
Sugar Futures---Sugar futures are basically unchanged this afternoon currently trading at 17.40 breaking out to a new 2 ½ year low trading below its 20 & 100 day moving average and as I've stated in previous blogs I am bearish sugar prices and I am recommending a short position putting a stop above 18.02 in case the trend does break out to the upside but at this point in time I still believe that the trend in the commodity markets and in sugar prices are lower. With a record harvest coming out of Brazil and supply rising every single day that is keeping a lid on prices here in the short term even though the fact that Brazil has pushed up their mandate for ethanol production using sugar trying to reduce some of the supply surplus but that is still not having an impact on prices and I do believe we will head down to the 2010 lows of 14.50 a pound here in the next couple of months. The daily chart in sugar has outstanding chart structure allowing you to place very tight stops if you are bullish or bearish limiting your monetary loss due to the fact that your stop loss could literally be within 30/50 points away which is between $300 $500  a contract allowing you to speculate with limited risk. TREND: LOWER –CHART STRUCTURE: EXCELLENT
Orange Juice Futures-- Orange juice prices this afternoon are also down  350 points in the July contract trading at 141.10 hitting a 3 week low finishing lower by 500 points for the trading week now trading below its 20 day moving average but still above its 100 day moving average as orange juice prices have been heading higher in recent weeks due to greening disease affecting the orange juice crop which has prompted prices higher ,however with a pessimistic commodity market again this morning traders are booking profits and not necessarily going short the market but they are taking profits in getting out of the market as open interest has been declining. Remember orange juice is a very thinly traded commodity and can move very violently at times due to weather conditions or crop reports so in this market I always suggest using a stop loss if you are planning on speculating in orange juice prices. At this point in time I'm advising traders to sit on the sideline because I don't really think there's much of a trend here and wait for something to develop with better chart structure as we've  had big moves up and big moves down and those are the markets I try to avoid. TREND: NEUTRAL –CHART STRUCTURE: TERRIBLE
If you are looking for a futures broker feel free to contact Michael Seery at 800-615-7649 and he will be more than happy to help you with your trading or visit www.seeryfutures.com
There is a substantial risk of loss in futures, futures option and forex trading. Furthermore, Seery Futures is not responsible for the accuracy of the information contained on linked sites. Trading futures and options is Not appropriate for every investor.
Michael Seery, President
Seery Futures
Twitter–@seeryfutures
Phone # (800) 615-7649