Hello traders everywhere! Adam Hewison here, President of INO.com and co-creator of MarketClub, with your video update for Friday, the 20th of December.
Amazon
Amazon (NASDAQ:AMZN) moved over the $400 a share level for the first time in its history. I have been positive on Amazon since June 7th of this year, when the monthly Trade Triangle kicked in at $277.40. It is clear now, to almost everyone, that Amazon is the 900lbs gorilla in the retail space. It's going to be almost impossible to dislodge them from this position, in my opinion. Certainly the new generation of shoppers are going to bypass the Walmarts (NYSE:WMT) and the Targets (NYSE:TGT) of the world, especially when you think of the security breach that took place at Target just recently. I expect Amazon to trend higher.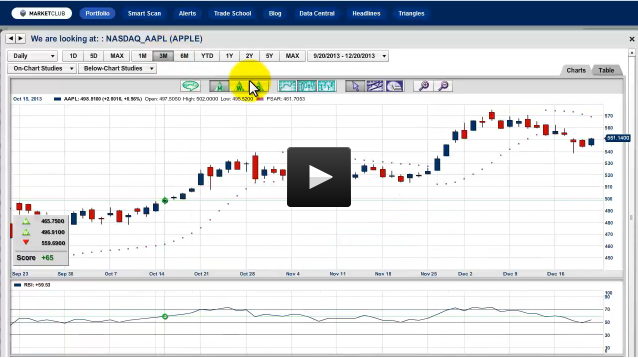 Gold
In 2013 stocks were the big winner, while gold was without question, the big loser. A close today below the $1,200 level would not bode well for this once precious metal. It could indicate further potential weakness before Christmas and suggest a move down eventually to the $1000 an ounce level.
The bear is in firm control of this market as more and more investors and gold bugs are bugging out of gold and moving into, dare I say, stocks and BitCoins.
Also On The Radar Screen: Apple and Netflix
Today, I will also be looking at Apple (NASDAQ:AAPL) and Netflix (NASDAQ:NFLX), two stocks that have served us very well in 2013.
Every success in the market and have a great weekend,
Adam Hewison
President, INO.com
Co-Creator, MarketClub
Adam appears frequently on the following financial news channels as a guest expert. Click on any cable logo to watch Adam's latest appearance.