We've asked our friend Jim Robinson of profittrading.com to provide his expert analysis of charts to our readers. Each week he'll be analyzing a different chart using the Trade Triangles and his experience.
Today he is going to take a look at the technical picture of the S&P 500 Futures Contract (CME:SP.H14.E).
This week let's take a look at the S&P 500 futures contract.
When trading futures with the Trade Triangles you use the weekly Trade Triangles to tell trend and the daily Trade Triangles to time the entry and exits.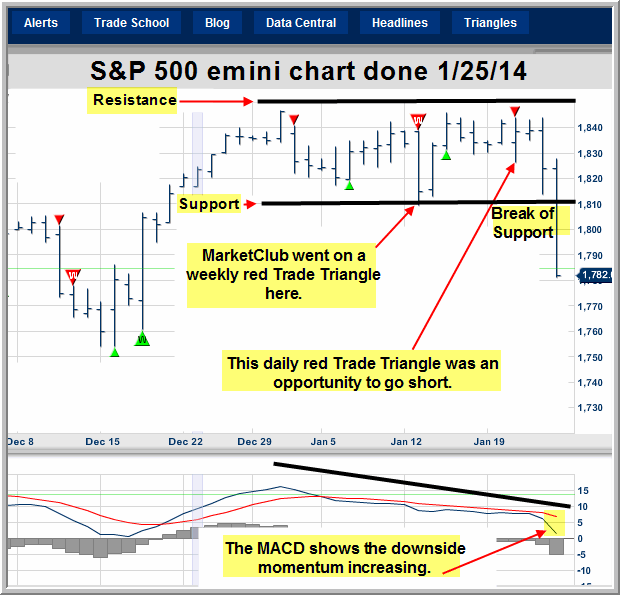 The weekly Trade Triangle turned red Trade on 1/13/14 and a red daily Trade Triangle on 1/21/14 which would have put any one trading the E-mini S&P 500 with the MarketClub system short just before Friday's 1/24/14 big down day and break of support.
The strong momentum on the downside break, as shown by the MACD technical analysis indicator, suggests lower prices ahead.
Even though it looks like lower prices ahead, when following a system you just sit back and let the market tell you what to do next.
So right now the Trade Triangles are short waiting on the next green daily MarketClub Trade Triangle to signal an exit.
Then as long as the Weekly Trade Triangle stays red you would take all new red daily Trade Triangles and keep shorting this market until you get a new green weekly Trade Triangle.
Right now the stock market looks to be headed for a correction making the E-mini S&P 500 a Chart to Watch and keep a close eye on.
Nobody knows how long that correction will last, so the best thing to do from here is to follow the MarketClub system and the Trade Triangles !!!
Thanks,
Jim Robinson
Profit Trading.com