Hello traders everywhere! Adam Hewison here, President of INO.com and co-creator of MarketClub, with your video update for Monday, the 7th of April.
Last week we saw the tech stocks shave 4% off the value of the NASDAQ index in just 3 days and we are seeing further follow-through selling today. Technically the markets have been in strong bull trends for the last 5 years. Historically, very few bull markets have exceeded that length of time. This bull market may or may not be the exception.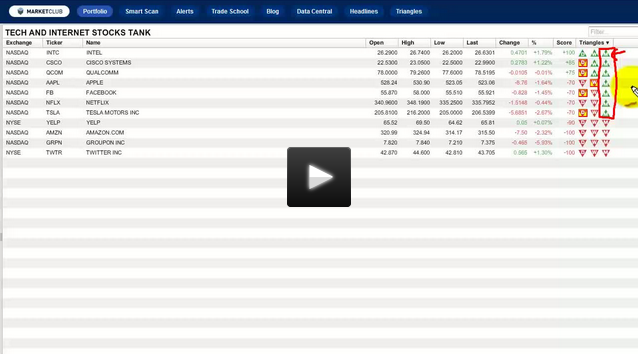 There have been several Internet stocks that I have been talking about on this blog, mainly Amazon (NASDAQ:AMZN) which I have been bearish on, Twitter (NYSE:TWTR), Yelp (NYSE:YELP), and a host of others and they are all in bearish patterns.
Many tech stocks are still in longer-term bull markets and have not made the turn to the downside. Some examples of those stocks would be Qualcomm (NASDAQ:QCOM), Intel (NASDAQ:INTC), and Cisco (NASDAQ:CSCO).
Is this a buying opportunity or are we seeing a paradigm shift in the marketplace and in the psyche of investors' minds? As I have stressed before many times, perception trumps common sense, but to ignore the power of perception would be a folly. If the perception is that stocks are heading down, don't be surprised if stocks go down.
I'll be looking at several of these stocks today and giving you my opinion based on the Trade Triangle technology.
Gold
Major Trend : BULLISH
Intermediate Trend : BEARISH
I think the gold market is trying to make a base after its recent pullback and I believe that this quarter should be a positive quarter for gold. Looking at our World Cup Portfolio that incorporates gold, the second quarter of the year has proven to be an excellent one to follow the Trade Triangle rules for trading gold. Check out my recent blog post on gold and see the gold trading signals here.
Every success with MarketClub,
Adam Hewison
President, INO.com
Co-Creator, MarketClub
Adam appears frequently on the following financial news channels as a guest expert. Click on any cable logo to watch Adam's latest appearance.