Hello traders and MarketClub members everywhere! In today's video, I will be checking out 10 very popular stocks too see if they've lost their market mojo and are experiencing a lack of interest from investors.
Now, by no means am I saying that these stocks are going to deteriorate in the next week. I am simply looking at these stocks to see if their recent market action is presenting some question marks in the minds of investors. All of the stocks I will be covering today are well-known, heavily traded stocks that have been trading for a while.
Amazon (NASDAQ:AMZN) - Are investors fed up with no profits?
Apple (NASDAQ:AAPL) - Is the iPhone 6 going to save the day?
Ebay (NASDAQ:EBAY) - Bye, bye PayPal.
Facebook (NASDAQ:FB) - Is the magic over for Zuckerberg?
Google (NASDAQ:GOOG) - What is their next big hit?
Netflix (NASDAQ:NFLX) - Stream baby, stream.
Starbucks (NASDAQ:SBUX) - Moving more than coffee.
Twitter (NYSE:TWTR) - Has the last Tweet gone out?
Under Armour (NYSE:UA) - Body armor for suburbia.
Yahoo (NASDAQ:YHOO) - What game are these guys playing?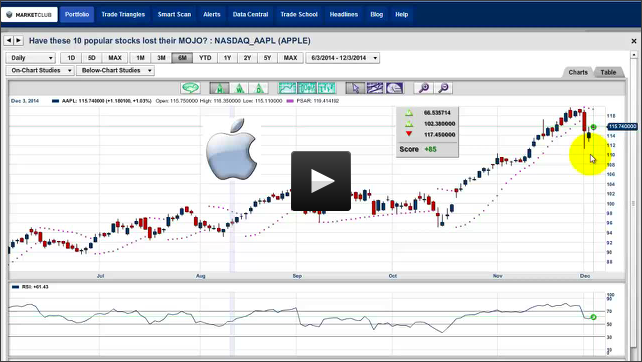 Traders! Don't miss out on MarketClub's Special Holiday Promotion! Try the tools for 30 days for only $8.95, then take advantage of a Special Holiday Rate for 90 additional days of access (Save 40%!).
Have a great trading day and enjoy today's video.
Adam Hewison
President, INO.com
Co-Creator, MarketClub