Hello traders and MarketClub members everywhere! Every December it's the same tune, the "Santa Claus Rally." That happens when the market rallies and closes close to or at its best levels for the year. I for one am not sure that is going to take place this year, and here's the reason why.
Late last night, I think it was about 12:30AM, I posted on our member blog that Friday could turn real ugly! I came to that conclusion based on yesterday's market action which had to disappoint the bulls with the weak market close. Couple yesterday's market action with the action we saw on Wednesday and you can put together a composite picture of just how this market is beginning to fall on its own weight. Should the S&P 500 close lower today, it will be the biggest weekly loss in over two months, not a good sign.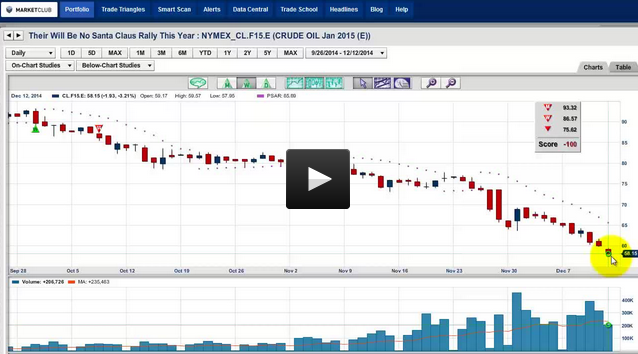 One of the key areas I'm are watching today on the NASDAQ is 4,653. Should this level be broken and I expect it will be, that will put all three of the indices in a trading range indicating that intermediate-term traders should be on the sidelines. This analysis dovetails very well with my December view of the markets.
In today's video, I'm going to do a general overview of the markets and then focus in on some 52-week lows that may be presenting themselves as shorting opportunities for the weekend.
Traders! Don't miss out on MarketClub's Special Holiday Promotion! Try the tools for 30 days for only $8.95, then take advantage of a Special Holiday Rate for 90 additional days of access (Save 40%!).
Every success with MarketClub,
Adam Hewison
President, INO.com
Co-Creator, MarketClub