Hello traders and MarketClub members everywhere! Well I have to admit it, I did take a few days off to fly down to Cancun last week to get some sunshine and warm weather. If you're based anywhere on the East Coast, you know it has been very, very cold, the coldest weather we have had in 170 years! So I thought it was time to sneak off and get some warm weather for a few days.
When I come back from a trip, I immediately look at the Trade Triangles to see what is happening in the marketplace and what stocks are on the move. Today was no different, I simply clicked on the Trade Triangle button and I searched for stocks that were in uptrends, but had a continuation signal today. In simpler terms, I was looking for stocks that were in uptrends that had given a weekly Trade Triangle signal today indicating that the upward trend was once again resuming.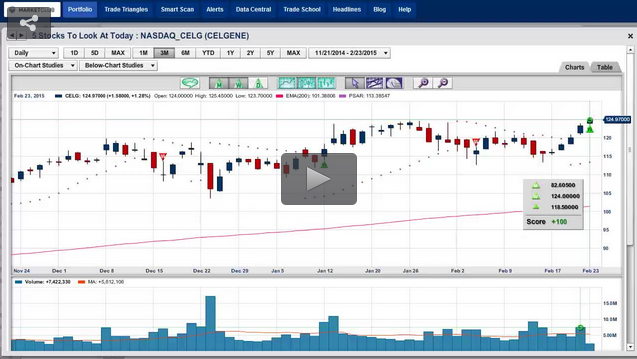 I filter the list down to stocks that have good volume and have traded on average over 2 million shares a day. When you look for stocks that have that type of trading volume, you know that the big boys, the hedge funds and institutional investors, are also looking at those same stocks as well, so you're in good company.
Today, I'm looking at five stocks that I found at approximately 11:30am EST this morning, right after I got back from the dentist and that, of course, is another completely different story.
I am going to walk you through how I think these stocks are going to act in the coming weeks and months and how you can get in the market if you so choose to do so.
While Cancun was nice, it is always nice to get back to the markets and see what's going on in the real world. It seems that while I was away nothing changed. Greece continues to backpedal and throw flags up in the air, and the Ukraine continues to be a complete mess for the European community. I could go on, but there is too much going on in the world to cover everything in this blog today.
I would like you to feel comfortable leaving comments below my posts. I have to say we feel blessed and enormously grateful to be in a position to help answer any questions you may have in a positive and educational way.
Every success with MarketClub,
Adam Hewison
President, INO.com
Co-Creator, MarketClub