I believe that the "dead cat bounce" I discussed last week has occurred with the market action seen late last week. Many of the major indices have rallied back to their Fibonacci resistance levels which should hold the markets' upward momentum, at least in the short term.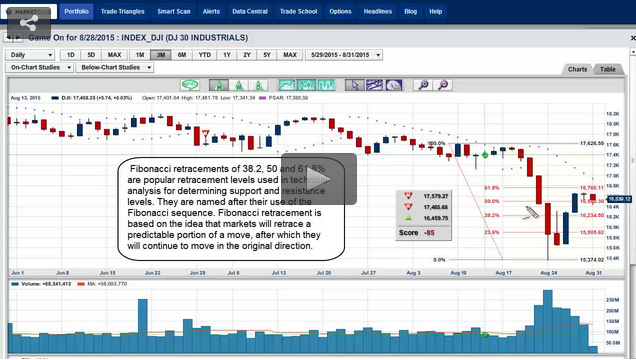 If you're not familiar with our Fibonacci tool, you can learn about it right here.
Another big negative for the markets is that many of the world indices had their worst month in three years. Unless there is a miracle today, it would appear as though the month of August is going to go into the minus column for the Dow, S&P 500 and NASDAQ.
There is an old trading maxim which you may have heard, "don't try to catch a falling knife," that should be every investors' mantra for September.
One of the problems overhanging the market right now has to be the Fed and if they are going to raise interest rates in September. This uncertainty is not a good thing for the market and it would appear as though the Fed and the rest of the Central Banks are pretty much out of bullets in terms of helping the economy and the markets.
So what's ahead for September?
Traditionally the markets get more serious and more liquid after Labor Day and I suspect this year will be no different. The one keyword I think we can use to describe markets in September will be erosion. At the very least, I expect to see a retest of the recent lows and possibly new lows. The trend is clearly down in all the major indices and shows no signs of turnaround anytime soon.
Is it time to buy gold?
With the dramatic drop and volatility in the equity markets last week, some investors are turning to gold as a safe haven for their money. In today's video, I will share the key levels to watch in the next few days. I will also be looking at a major technical aspect in gold that has been in place for the last eight months and is very close to reversing and signaling a dramatic upturn.
I do not believe we are going to see any more dramatic drops like we witnessed last Monday, but I do believe that the markets will slowly erode from current levels.
Have a great day trading and stay disciplined.
Every success with MarketClub,
Adam Hewison
President, INO.com
Co-Creator, MarketClub