I know to many Apple Inc. (NASDAQ:AAPL) fans, that probably sounds sacrilegious.
You may be thinking, "Adam has lost his mind, he must be thinking about another stock, surely not Apple." After all, they just announced two new iPhones and sold 13 million of them this past weekend. They are the leader in the smartphone market, coming out soon with their game-changing Apple TV and a bigger iPad. That is correct, but...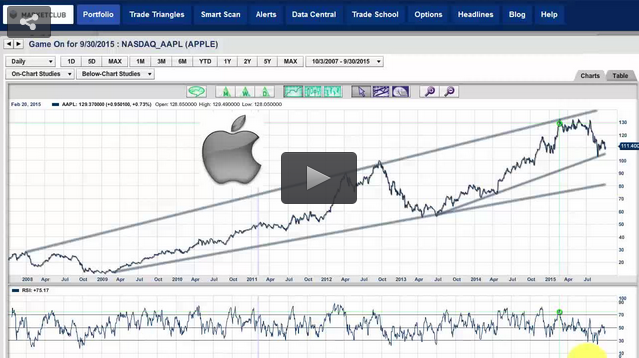 It's not that difficult to look at the market action in the stock and see that it is pathetic. All of that positive PR information comes out about Apple selling 13 million iPhones in a weekend, yet the stock goes down. What's with that? The PR people must be pulling their hair out thinking about what they can do next to push the stock up. One thing I love about Steve Jobs, the original Apple genius, was he didn't give much thought about the stock market. He was more interested in creating insane, cutting-edge products. The new regime at Apple is more interested in pushing the stock price up and being politically correct.
Also, the Apple Inc. (NASDAQ:AAPL) "act" is getting a little bit old and certainly Apple has not been able to innovate anything new in the past several years.
Even mega investor, Carl Icahn, can't believe that Apple's shares are not higher.
So what's going on with Apple?
Here's my take on Apple Inc. (NASDAQ:AAPL) and why I think it's a short.
First off, there's a lot of people who are long this stock and getting anxious. Secondly, Apple really hasn't kept up with innovation, they've been just tweaking an already successful and aging product. Thirdly, the iPhone represents about 70% of Apple's income and is definitely the cash cow, but it's beginning to run dry. The world has basically become saturated with smartphones and I don't think Apple is going to dramatically increase their share of the market. There are so many clones available that are far less expensive that do just as much as an Apple iPhone.
Lastly, let's take a look at the market action itself. If Apple was doing so well, the stock wouldn't be going down. Now you can argue that the general market is going down, but Apple signaled back on July 8th that it had entered a bear trend. Apple also gave us a weekly sell signal yesterday at $109.77 that pushed all our Trade Triangles into the red. If Apple was such a strong stock, this would not be happening.
How far down do I see Apple dropping from where we are now around the $110 level? If the pattern is similar to what happened back in November 2012, we could see a correction down to the $85 a share level. Should that happen, Apple shares should find support in the form of a long term positive trend line from 2009 that should halt the slide in Apple Inc. (NASDAQ:AAPL).
This is the last day of trading for Q3, so make the most of it! Stay strong, stay disciplined.
Every success with MarketClub,
Adam Hewison
President, INO.com
Co-Creator, MarketClub