Contrarian plays can often pay off for investors that are willing to weather some short-term volatility. The oil industry has experienced pain for over a year now which began late in the summer of last year as oil prices fell to lows that hadn't been seen in a decade. This weakness has created some value opportunities, though, with oil stocks now trading at discounted prices.
Global growth concerns have weighed heavily on energy demands while a supply glut has kept oil low. However, oil may be facing a bullish cycle over the next quarter with more upside to come for 2016. Demand is growing again and oil supply for next year is estimated to be tighter than previously expected. Since August, oil prices have traded in the $45 to $50 range indicating that it has finally settled and reached a bottom.
US oil production has slowed from June's high of 9.6 million barrels a day to just over 9 million according to the most recent government report and global energy demand for next year is being revised upwards. If the US dollar continues to weaken, that could be an additional tailwind for oil prices as well.
An oil driller on the rise
Helmerich & Payne (HP) is a $6 billion oil & gas drilling company that operates both onshore and offshore in the US, the Gulf of Mexico, South America, Africa, and the Middle East. Like most oil companies, the stock hasn't done well lately – down more than 35% in the past 12 months. However, strong management and positive fundamentals in oil could be the catalyst that sends this stock higher.
Oil prices surged on Tuesday helping to lift HP's stock up 8.42% in a single trading day. The company benefits primarily through its leasing segment for land rigs and other oil services and maintains the largest fleet of AC-powered rigs in the industry. By managing to keep its fleet up-to-date and retire older models that hurt profitability, Helmerich &Payne have been able to keep a much higher percentage of its fleet operational despite the downturn in the oil industry that has sidelined many of its competitors.
Compared to its peers, the company trades at a discount at just 11.5 times earnings when the industry average is almost 25. It also carries a healthy balance sheet with more than $360 million in cash holdings and just $40 million in long-term debt obligations. And with a payout ratio of less than 49%, the company is more than capable of continuing to pay out of its dividend which is currently yielding 4.9%.
If we take a look at Helmerich's chart, we can see how momentum is starting to turn positive quickly.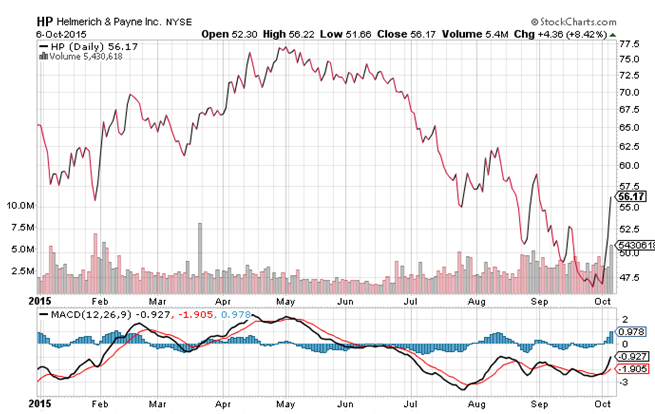 Chart courtesy of StockCharts.com
Notice the leap up in value on Tuesday along with high trading volume. That's a strong sign of positive staying action while the MACD is beginning to shift towards positive territory as well.
Analysts have conflicting views about the stock with a flurry of upgrades and downgrades over the past few months. With oil in recovery, though, it seems likely that Helmerich & Payne will reap the benefits. Despite the collapse in oil prices, the company still managed to beat earnings expectations for the past three-quarters. Estimating the current year's earnings and a fair P/E ratio, this stock should be fairly valued at $62 per share – a potential gain of about 10%.
Check back to see my next post!
Best,
Daniel Cross
INO.com Contributor - Equities
Disclosure: This contributor does not own any stocks mentioned in this article. This article is the opinion of the contributor themselves. The above is a matter of opinion provided for general information purposes only and is not intended as investment advice. This contributor is not receiving compensation (other than from INO.com) for their opinion.