When I was combing through the recent Trade Triangles scan this morning, two stocks jumped out at me. These two stocks have been in disfavor with investors and were generally cast aside by the general public.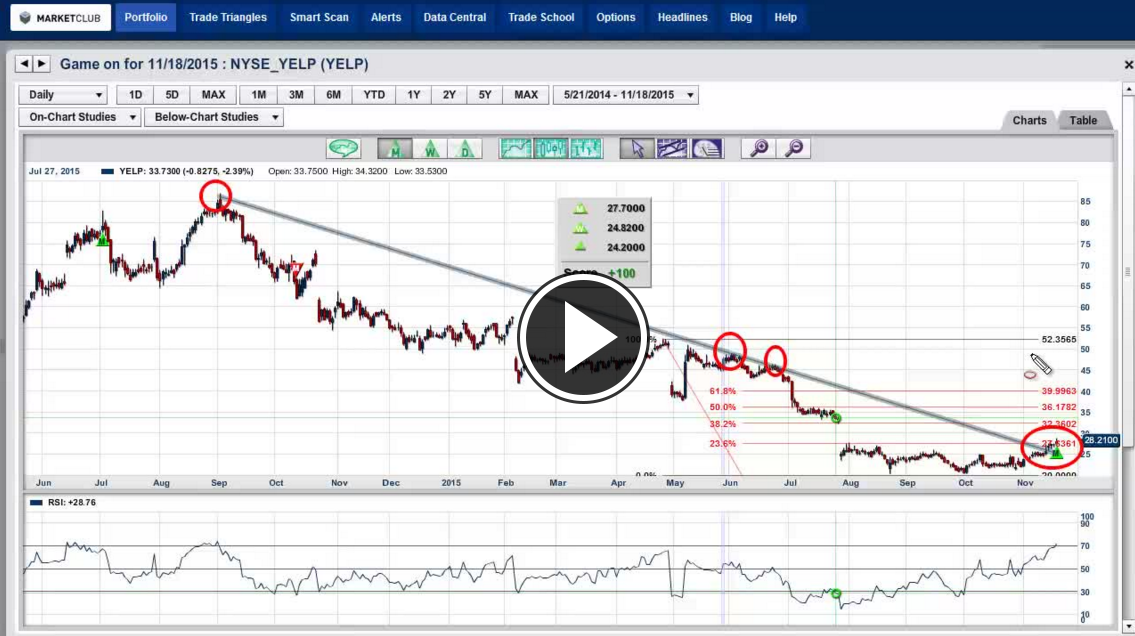 The first stock I will be looking at today is Yelp, Inc. (NYSE:YELP). This stock traded over the $100 level back in the first quarter of 2014. Since that time the stock has generally eroded and recently traded down to the $20 area. This morning, Yelp triggered a buy signal with a green monthly Trade Triangle at $27.70. This signal represents the first monthly signal since 10/13/2014 when a red monthly Trade Triangle was triggered at $64.70. I have an upside target for Yelp of $40, which represents a 61.8% Fibonacci retracement.
The next stock is Sprouts Farmers Market, Inc. (NASDAQ:SFM) which also triggered a green monthly Trade Triangle at $24.76. Earlier this year, this stock was trading around the $38 level. The last monthly Trade Triangle was a red Trade Triangle that triggered on 4/30/15 at the $32.59 level. Technically speaking, I can see this stock retracing back to the $30 area which represents a 61.8% Fibonacci retracement and is my upside target zone.
I like the base foundation that both of these stocks have built and are coming out of to the upside. I expect to see both stocks do well in the coming weeks and months.
In addition to Yelp and Sprouts Farmers Market, I will be looking at the major indices and other markets.
Feel free to leave a comment or question below this post.
Stay focused and disciplined.
Every success with MarketClub,
Adam Hewison
President, INO.com
Co-Creator, MarketClub