Now that the Thanksgiving holiday is over and we're entering December, traders should take extra care. Historically markets can move rather dramatically in December as trading volume thins out when traders start closing down their trading mindset and move out of the markets and into holiday mode. You do not want to start swinging for the fences to try to make your year in December, the odds are against you.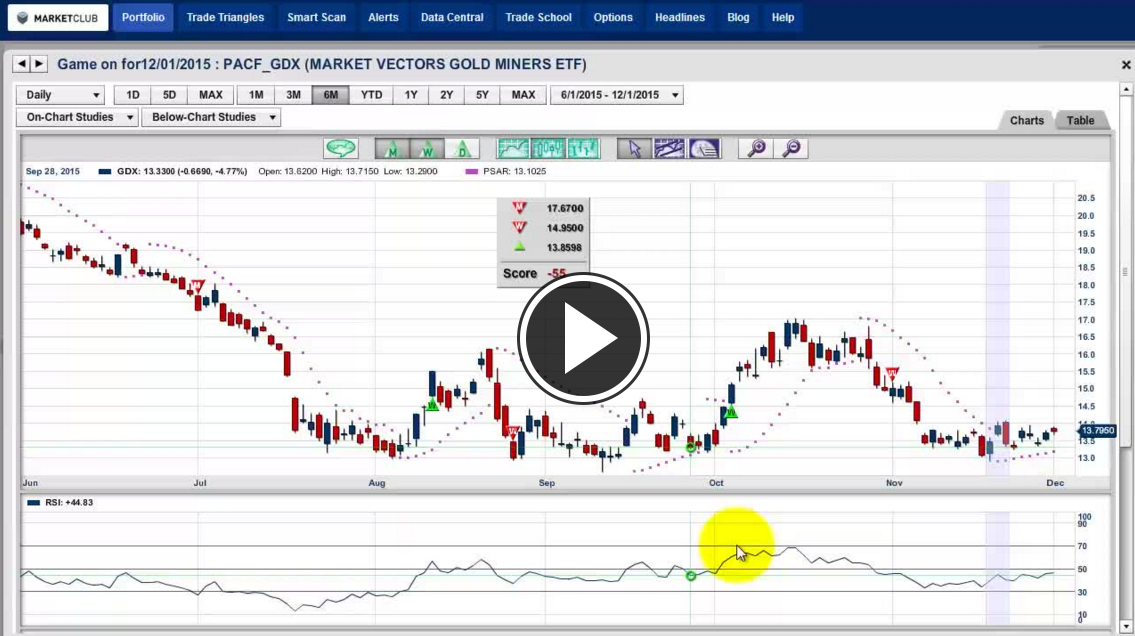 In addition to looking at the markets in general today, I'm going to take an in-depth look at the gold market. Everyone seems to be bearish on gold and what I have noticed over my trading career is that when everyone feels the same way about a market and is on one side of the trade, watch out!
That is the way the mood is right now for gold and there could be a sharp reversal as the shorts, that is the folks who sold gold short hoping to buy it back at a lower price, scramble to cover (buy back) their short positions.
I'm going to look at the following markets, the Market Vectors Gold Miners ETF (PACF:GDX), the SPDR Gold Shares (PACF:GLD) and finally the spot gold price (FOREX:XAUUSDO).
One thing I notice building in the gold market is the beginning of a divergence. A divergence occurs when price is moving higher or lower and market momentum (RSI Indicator) is not following suit. It is becoming more and more evident that a significant divergence is building in gold prices. I'll be pointing this out on the charts that I will be looking at today. Another leading technical indicator, the MACD, just crossed over yesterday on the GDX chart, also indicating a potential turn.
So what are the Trade Triangles telling us? At the moment, most, if not all of the Trade Triangles are red indicating that the major trend remains down in gold. MarketClub's Trade Triangle technology is a trend following indicator, while the RSI indicator on the other hand is an oscillator. This is where you will see divergences come into a market. I think you'll enjoy seeing how you can use this oscillator in a positive way in any kind of market.
You can find a MarketClub lesson on the RSI indicator here.
Stay focused and disciplined in December.
Every success with MarketClub,
Adam Hewison
President, INO.com
Co-Creator, MarketClub