Hello MarketClub members everywhere!
Gold
Is this pullback in gold a buying opportunity or a watching opportunity? I think it's the latter, and here are the reasons why.
Gold (FOREX:XAUUSDO) has had a remarkable rally from early December in 2015 to just a couple of weeks ago when the price of gold peaked at $1260 in the spot market. There are two things that I'm looking at in this market; one is for further consolidation and the second is that I believe that a major cyclic low will be occurring in the near future.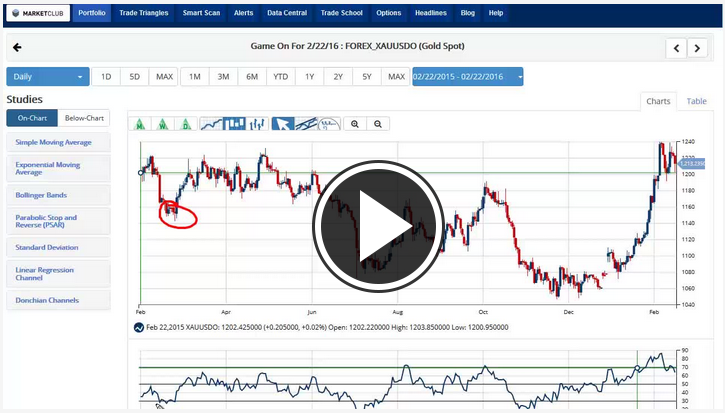 Looking at a chart of gold for the past 12 months you can see that gold had low periods in March, July and December. If that same rhythmic pattern holds true, the next low period should be coming up in April. I expect to see gold remain choppy until that time period.
The major reason why I want to pay close attention to gold is that I believe it is in a longer-term bullish cycle. One area to pay close attention to is the 50 support line on the RSI indicator. You also want to pay particular attention to the monthly RSI, which still remains below the 50 line indicating that it's not fully into a strong upward momentum cycle for gold. I believe that we will see further consolidation below the RSI line before it's broken on the upside.
The key in my mind is to be mentally and financially prepared to buy gold either in a physical format or an ETF like GLD some time in April. I wanted to share this with you and give you a heads up of what I'm thinking longer-term for the gold market. Of course, I will be using the Trade Triangle technology to time this move as closely as possible.
Indices
The major indices started this morning on a positive note with a strong rally. The question is, is this a "dead cat bounce" or the start of a genuine rally? At the moment the Trade Triangles are indicating that you should be on the sidelines with regards to the Dow (INDEX:DJI). The S&P 500 (CME:SP500) and NASDAQ (NASDAQ:COMP) indices are still negative, but could reverse today to neutral. The key level to watch on the S&P 500 is 1,947.20, should that level be broken it would move to the sidelines. The key level to watch on the NASDAQ is 4,636.93. If that level is broken, it will move to the sidelines.
Crude Oil
The other news this morning is that crude oil (NYMEX:CL.J16.E) is up about 6% and has yet to break out of its trading range. It would appear at the moment that it is trying to build a base to eventually move higher, but it is far too early to say that this is a done deal.
I believe that this week is going to be choppy as the markets rotate and settle in at a new level. As I continue to mention, the key is to be nimble.
Have a great trading day everyone and pay close attention to the key numbers on the indices as they're very close at hand.
Stay focused and disciplined.
Every success with MarketClub,
Adam Hewison
President, INO.com
Co-Creator, MarketClub