Hello MarketClub Members everywhere, Adam Hewison here, wishing you a happy and prosperous May. I believe this month is going to be a very pivotal one for the stock market.
In the back of many traders' minds is the old market adage, "sell in May and go away". Is that what is going to happen this May? It is perhaps a little too early to tell as there are many, many factors in play the least of which is, of course, the presidential election which has electrified and gripped the country in a way that I have never seen before. Like always, I'm going to rely on the Trade Triangles to tell me what is going on in the marketplace.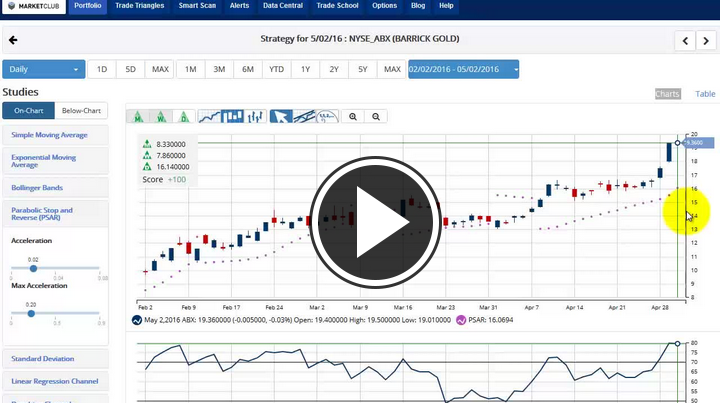 This morning, Warren Buffett indicated that he would take his money out of the banks if he had to pay them to keep his money. What he was referring to was negative interest rates. Berkshire Hathaway, which is the operation that Warren Buffett runs, is a conglomerate of companies and has about $60 billion in cash that it keeps in the bank. With the current low-interest rates, Berkshire Hathaway is earning about $600 million a year as opposed to the several billion of dollars it would earn in a more normal interest rate environment.
So in essence when one of the top investors in the world indicates that he would pull his money out of banks, he was saying to Janet Yellen, the head of the Fed, to back off the idea of negative interest rates. Way to go Warren - I think you win this one.
Gold (FOREX:XAUUSDO): Gold prices moved over $1,300 an ounce to the highest levels in 16 months this morning. As a member of MarketClub, you know we had a long-term buy signal for gold at $1143.15 when the monthly Trade Triangle turned green on 2/03/2016. I also indicated on Friday that I expected to see this market initially open higher on Monday and possibly on Tuesday. Gold is up over 20% for the year.
Indices: The indices are trading higher this morning. This week and month should be interesting as we have several early warning alerts indicating that not all is well in investor land. The other unknown is that if the market should begin to falter, more and more pundits will start to repeat the phrase "sell in May and go away", which then becomes a self-fulfilling prophecy.
Crude Oil (NYMEX:CL.M16.E): Crude oil is trading lower this morning, presently down over 1% for its biggest drop in 5 days. Overall the long-term trend remains positive and I expect to see crude steadily improve for the balance of May.
Take a look at these big-name stocks and how they are moving in different directions. All of which creates a very mixed picture for the stock market.
Starbucks Corp. (NASDAQ:SBUX): Trend Negative
Amazon.com Inc. (NASDAQ:AMZN): Trend Positive
Facebook Inc. (NASDAQ:AAPL): Trend Positive
Apple Inc. (NASDAQ:AAPL): Trading Range
Netflix Inc. (NASDAQ:NFLX): Trend Negative
Tesla Motors Inc. (NASDAQ:TSLA): Trading Range
Alphabet Inc. (NASDAQ:GOOG): Trend Negative
I recommend that you check out your favorite stock using the Trade Triangles and see which direction your stocks are headed.
Leave a comment or ask a question, it's easy to do and we will answer all of your questions in a timely manner.
Stay focused and disciplined.
Every success with MarketClub,
Adam Hewison
President, INO.com
Co-Creator, MarketClub