Hello MarketClub members everywhere. The buzz around Wall Street this morning is that Apple is going to buy Netflix. As you probably know, Apple has a huge cash hoard rumored to be somewhere around the $200 billion level. Netflix is worth perhaps 40 or $50 billion, so it doesn't take a lot of imagination to see how a deal like this could work. Apple wants to move into the content and distribution space and Netflix might just be the vehicle to do that.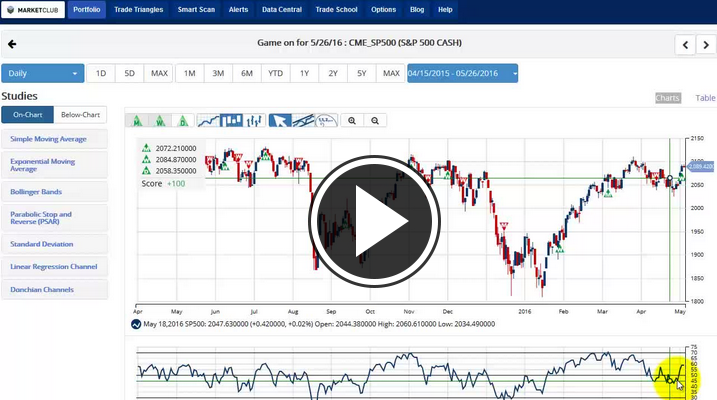 Apple Inc. (NASDAQ:AAPL): Here is the rundown on Apple, several days ago Warren Buffett purchased Apple stock as he thought it was undervalued. Based on the Trade Triangles I'm on the sidelines in having taken a small loss of $3.39. Technically the $104 level should present a major barrier for Apple. One thing to remember, this is only a rumor and it is not supported by a strong technical picture. The biggest concern I have is the current lack of innovation by the company. In my opinion, without innovation a tech company like Apple is going to have a hard go of it.
Netflix Inc. (NASDAQ:NFLX): I think it is fair to say that Netflix is the number 1 supplier of streaming entertainment as more and more individuals elect to stay home and watch content. Netflix appears to be a valuable content partner for Apple, but will they buy Netflix? That is anyone's guess at the moment. The technical picture for Netflix is suggesting a sidelines position this after the Trade Triangles triggered a green weekly covering a short position which produced a gain of $4.54 in just over 4 weeks.
Crude Oil (NYMEX:CL.N16.E): The magical and psychological $50 a barrel level was breached early this morning before falling back. Based on a very special technical formation I expect that crude oil, which is heavily overbought, is due for a pullback. Should you sell crude here? The answer to that question has to be no as you are not trying to pick a top in this market, that is a losers game. What I am saying, however, is that you may want to take some money off the table if you have been following the Trade Triangles, but don't necessarily get out of all positions.
Gold (NYMEX:GC.M16.E): Gold found support at the $1220.10 yesterday, which is pretty much where I predicted it would find support. I now expect it to trade back-and-forth around the $1220 area as it regroups and gets used to its new price level. As always, I will be watching the Trade Triangles closely as the Trade Triangles are presently short gold from $1244.60.
Indices: Yesterday's action was enough to trigger a green weekly Trade Triangle on the S&P 500. Both the weekly and monthly Trade Triangles are aligned now indicating a long position. This is much like the NASDAQ that also has both the monthly and weekly Trade Triangles aligned. The only laggard in the bunch at the moment is the DOW, which is suggesting that a sideline position in this index is the best place to be at the moment.
Stay focused and disciplined.
Every success with MarketClub,
Adam Hewison
President, INO.com
Co-Creator, MarketClub