Hello MarketClub members everywhere. There's no doubt about it, yesterday's break in the world markets was caused by a little country in the North Atlantic named Great Britain and whether or not it's going to stay in the EU.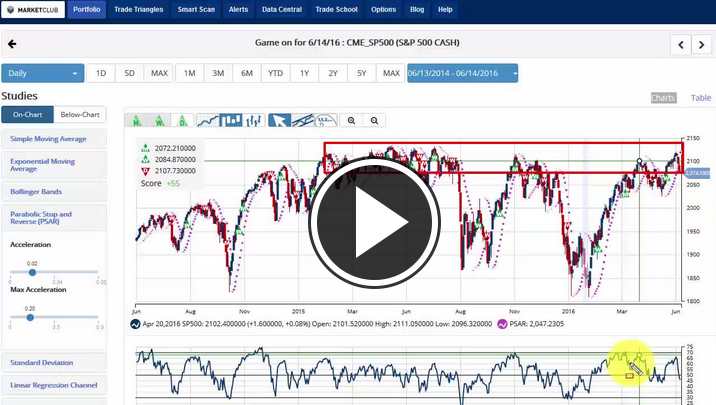 Having been born and raised in England, I cannot imagine in my wildest dreams why Great Britain would want to give up its sovereignty, its currency and cede control to Brussels. The EU is a bloated, incompetent bureaucracy that has a life of its own and answers to no one. To put this in perspective, the EU makes our government here in the U.S. look like it is super, super efficient.
Great Britain has the fifth largest economy in the world. It is not like Greece which is bankrupt or Spain which has a 45% unemployment problem and is just two steps away from bankruptcy.
Great Britain, which is not a large country, would soon be overrun by middle eastern immigrants which would create havoc with its welfare system. It would also change the very culture of the country.
I am in the camp that Great Britain charts its own future and is not dictated to by some faceless bureaucracy in Brussels.
Having got that off my chest, what is this historic June 23rd decision going to do to the markets?
Let's start off with the German bond that briefly went into negative territory today, meaning you're actually paying the German government to hold your money. Ouch!
Most of the market action yesterday was a reflection of the uncertainty and potential chaos that is in the minds of many investors and traders around the world. Sometimes we have "Black Swan" events in the marketplace that come out of nowhere - but this time, we have an event that this ticking down and will be decided in just nine days time.
I have been indicating for quite some time that the markets did not seem quite right and something seemed to be out of place. I also warned investors to be careful because of the overhead resistance that I saw in all of the major indices. Several secondary indicators have now moved into the negative column indicating potentially further weakness for ahead for stocks.
In today's video update I will be looking at all the major indices, plus gold and how it is going to play out for the year and lastly what's going on with crude oil.
Stay focused and disciplined.
Every success with MarketClub,
Adam Hewison
President, INO.com
Co-Creator, MarketClub