Hello MarketClub members everywhere. Well, we are at the beginning of a new week on a rather unusual day when we have three sixes in the date, that's not going to happen again until the 26th or until we hit 2026. That occurrence aside, I want to take a look at all the markets and in particular, the three A's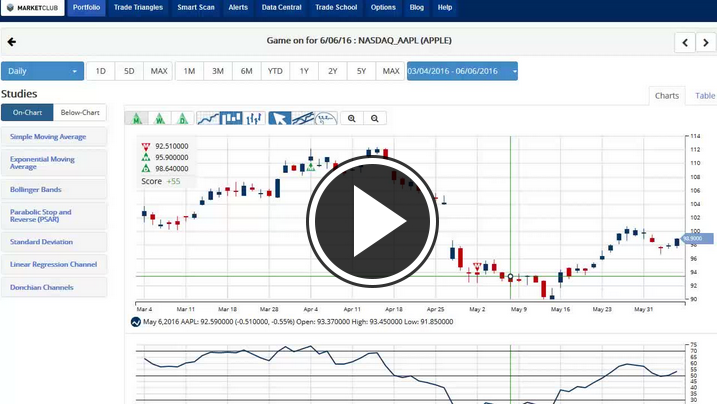 Let's begin by looking at Apple:
Apple Inc. (NASDAQ:AAPL): Apple as everyone knows was the darling of hedge funds and big mutual funds. Those days have changed now as it is no longer considered a growth stock, in fact, the feeling is that it recently lost out in the innovation game. The smartphone which is the core income producer for Apple suddenly looks old and dated compared to several of its Android competitors. Without innovation or its next greatest product, Apple is going to become very much like an IBM or a Microsoft - a large company with not much prospect of growing in the future. Two or three weeks ago legendary investor Warren Buffett purchased $1 billion with the Apple's stock. Yes, I know it is old news, but you have to remember that Mr. Buffett is a long-term investor. Is he going to right about this stock? Only time will tell. I still believe that the path for growth for Apple is with another must have product. If they cannot come up with a killer must have product, it will more than likely be forced to purchase companies for growth and innovation.
Amazon.com Inc. (NASDAQ:AMZN): Jeff Bezos named his company Amazon after the largest river by discharge in the world the mighty Amazon river which runs 3,977 miles through South America. It looks like Jeff did a good job in naming his company as it is arguably the largest commerce site on the Internet today. In fact, it is predicted that by 2020 one out of every five dollars spent by consumers will be spent on Amazon. I will be looking at this stock today to see whether perhaps it is running out of gas or resting to go higher.
Alphabet Inc. (NASDAQ:GOOG): The stock formerly known as Google derives most of its income from advertising and search functions. In fact, the company has had a hard time finding another winner and has had a number of failures including Google glass which went nowhere. I will be looking at this stock today and analyzing why it is down 5% for the year so far.
In addition to the three A's, I will be analyzing the major indices, gold and crude oil which is very strong today.
Stay focused and disciplined.
Every success with MarketClub,
Adam Hewison
President, INO.com
Co-Creator, MarketClub