Hello MarketClub members everywhere. You've probably heard by now that the Ford Motor Company (NYSE:F) is not going to be moving one of its plants to Mexico. Finally, the U.S. is waking up and realizing that it cannot be a superpower while having a service economy. Whether you voted for Trump or not, I think we have to give him credit for this save. Hopefully, some of the other promises he made will also help the U.S. economy like lowering taxes and nixing some of the onerous regulations that are handicapping businesses in the U.S.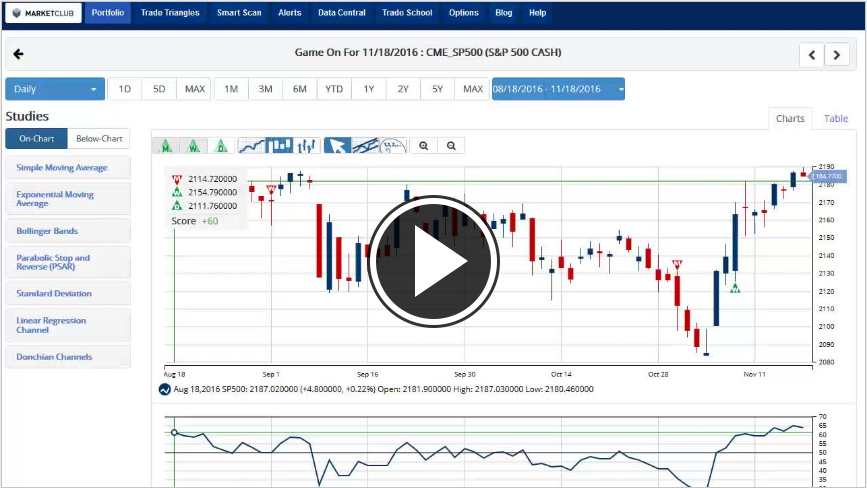 So far the markets seem to like what they see with all of the indexes higher for the week. The big winner this week was the NASDAQ (NASDAQ:COMP) which jumped +1.84%.
However, the biggest winner for the week is Crude Oil (NYMEX:CL.Z16.E) which is up +5.32% for the week. The big loser is gold (NYMEX:GC.Z16.E) which is down -0.87%. Let's examine how the Trade Triangles are positioned in both of these markets.
Crude Oil: The Trade Triangles are mixed - indicating a sidelines position.
December Gold: All of the Trade Triangles are Red - indicating a negative trend.
Once again, MarketClub's Trade Triangles point the way to successful trading. If you are not tracking the Trade Triangles, you may decide to do so after looking how they are positioned in many of the markets.
Looking at the major indices here are the changes so far this week (Thursday Closes).
DOW (INDEX:DJI): + 0.30%
S&P 500 (CME:SP500): + 1.05%
NASDAQ (NASDAQ:COMP): +1.84%
Crude Oil (NYMEX:CL.Z16.E): + 5.32%
Gold (NYMEX:GC.Z16.E): - 0.87%
Stay focused and disciplined.
Every success with MarketClub,
Adam Hewison
President, INO.com
Co-Creator, MarketClub