Introduction
Biotechnology has been a difficult space to deploy capital over the previous ~18-24 months. This cohort plummeted over and over again from both sides of the political isle as the 2016 presidential race unfolded. Between Hillary Clinton, Bernie Sanders and Donald Trump taking aim at drug pricing via speeches, Twitter, and other social media platforms, largely attributed to the entire cohort selling off. The sustained sell-off lead to the entire cohort to sell off from all-time highs of $400 to $240 or 40% in only six months as measured via the iShares Biotechnology Index ETF (NASDAQ:IBB). From February of 2016 through June of 2017 IBB traded in a tight range from $250 to $300 while Donald Trump continually fired shots against the healthcare sector. Any healthcare related stocks became volatile on the heels of any statement or tweet from Donald Trump. Shortly after the inauguration, Trump stated that drug companies are "getting away with murder" when speaking to the drug pricing issue. Now he's come out and stated that he's working on a "new system where there will be competition in the drug industry." Every time any of these remarks were tweeted, they immediately resulted in a downtrend across the entire biotech cohort. As the new proposed health care legislation enters its initial stages in Congress, a level of certainty has entered the picture, and the drug pricing threats are not perceived to be as bad as initially feared. Recently the index has had a resurgence moving from $284 to $321 or 13% over the past month. As the political headwinds continue to abate, I feel the index has room to continue its upward trend.
Past Buying Opportunities
The healthcare sector had been faced with an uncertain and volatile political backdrop. The overall healthcare umbrella has become sensitive to any tweet from President Trump as he vowed to bring down drug prices. Although he's allegedly pursuing his agenda against drug pricing, IBB started to become resilient as many of these threats may have already been priced-in as seen in many healthcare-related stocks that had seen sharp and sustained sell-offs. This sharp decline coincided with heated political rhetoric aimed at the collective cohort of healthcare and more specifically biotech companies. I strongly felt that these events were extraneous and would eventually subside without any significant impact on the underlying stocks within IBB. I felt this politically induced sell-off presented a great buying opportunity considering the 40% decline and extraneous pressures. I purchased two tranches of IBB at a strike price of $250 in February and June of 2016 during the market sell-off and the Brexit, respectively (Figure 1). I felt that these are great entry points for any long-term investor that desired exposure to the biotechnology sector. Ostensibly, many of these stocks were trading at multiyear low P/E ratios and as a cohort (gauged via the IBB proxy) looked to be less sensitive to tweets/threats as IBB continued to test the $300 barrier over the previous six months.

Figure 1 – IBB price activity and the resilience over the previous six months before the uptrend with pronounced volatility that coincides with political rhetoric against drug pricing
The Drug Pricing Transparency Coalition
Many large-cap pharma companies have created an unofficial drug pricing coalition to provide transparency in an effort to separate themselves from a handful of egregious price increases to contend with Trump's aim at the drug companies. This seems to be a checkmate to the new administration and its efforts towards lowering drug prices and erroneously accusing companies and labeling them as price gougers. A group of big pharma companies (domestic and foreign) is unofficially banding together to address the price increases that the public and government officials have been angered over. Allergan (AGN), J&J (JNJ), Novo Nordisk (NVO) and AbbVie (ABBV) have committed to limiting any annual drug pricing increases to less than 10%. J&J went further and published an annual report regarding its portfolio and the price increases they've implemented (Figure 2). Merck (MRK) becomes the latest pharma to join this drug pricing transparency coalition.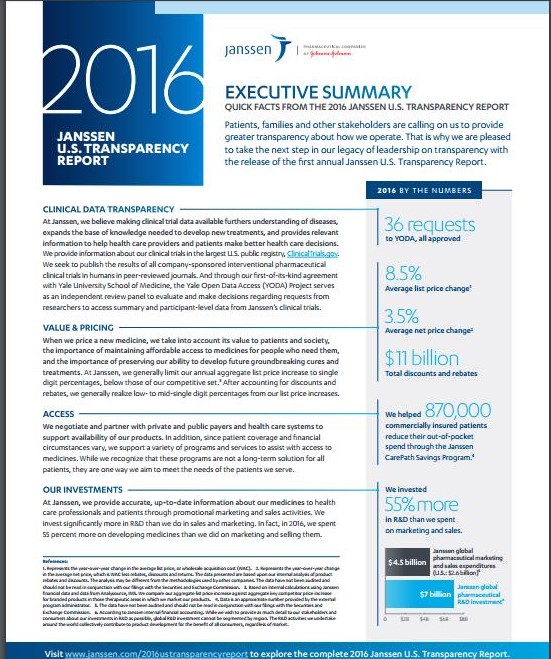 Figure 2 – J&J's high-level summary report on its portfolio of products and price increases
Proposed Healthcare Legislation
At first pass, the proposed healthcare legislation was perceived as favorable for the entire biotechnology cohort, specifically with regard to drug pricing. The Trump administration's attempt to reign in drug prices may not be as harmful as originally feared per a NY Times report. This report cited a draft of an executive order on drug pricing that appears to focus on easing regulatory hurdles for the industry and "largely leaves the drug industry unscathed." This is a far departure from all the strong rhetoric on the campaign trail from Donald Trump. As the drug pricing paradigm remains largely intact along with the drug pricing coalition effectively self-governing, this cohort will be less constrained and allow to rise.
M&A and Repatriation Catalysts
The M&A catalyst is very much in play as the broader biotech cohort remains at depressed valuations compared to 2015 highs. Some notable acquisitions include J&J's acquisition of Actelion in an all-cash offer of $30 billion to acquire the Swiss drug maker. McKesson acquired privately-held healthcare information technology company CoverMyMeds for $1.1 billion. Pfizer acquired Medivation for $14 billion, Allergan acquired Tobira for $1.7 billion and J&J's acquired Abbott's Medical Optics unit for $4.3 billion. Ariad (ARIA) Pharmaceuticals was acquired by Takeda Pharmaceuticals for $5.2 billion. Rumors have swirled over potential takeover targets such as Vertex (VRTX), Incyte (INCY) and Achillion (ACHN) to name a few.
Repatriation of overseas assets and decreases in corporate taxes are very much in play as well, and if these come to fruition, it could serve as a catalyst for M&A and a tailwind for the industry. These events taken in conjunction with chronically depressed valuations of many companies may accelerate M&A within the sector. The governmental stance on M&A activity may loosen up with the new administration. Potential repatriation of overseas assets decreases in corporate taxes, and the loosening of M&A pushback may bode well for the industry in the intermediate term. As the cohort remains suppressed, many prospective buyout candidates become more financially appealing to the acquirer due to beaten down valuations in concert with the maturity of pipelines coming into play. As this acquisition activity heats up, be on the lookout for stocks that have been rumored as takeover targets to heat up and possibly take IBB along for the ride.
Summary
Biotechnology has been a difficult space to deploy capital over the previous ~18-24 months. After its 40% slide over this period, IBB began to demonstrate its resilience in the face of Donald Trump as he continuously threatened to overhaul drug pricing in this country. The 40% sell-off, newly formed drug pricing coalition, political threats abating and the newly proposed health care legislation are providing an ideal environment for the biotech cohort to appreciate. Considering many of these stocks that comprise this cohort were at multiyear lows, it appears that these threats may have been priced-in considering the sharp and sustained sell-offs leveled off and tested the $300 level. The new unofficial coalition on drug pricing transparency may have served as a checkmate to the attempts of the new administration. As empirical data on drug pricing is articulated to the general public, reigning in these costs may be more challenging when countered with this coalition and its vow to limit drug price increases. If the drug pricing debate can be put to rest by the coalition, then this will be a major tailwind for the cohort to rise. Potential M&A activity and a favorable repatriation environment can further support this sector. The kicker was the recently proposed health care draft in which the Trump administration's attempt to reign in drug prices may not be as harmful as originally feared. Collectively, all these events bode well for the sector as iShares Biotechnology Index ETF (NASDAQ:IBB) has now broken through the $300 barrier once and for all. I feel that this cohort has more room to run higher.
Noah Kiedrowski
INO.com Contributor - Biotech
Disclosure: The author currently holds shares of IBB and the author is long IBB. The author has no business relationship with any companies mentioned in this article. He is not a professional financial advisor or tax professional. This article reflects his own opinions. This article is not intended to be a recommendation to buy or sell any stock or ETF mentioned. Kiedrowski is an individual investor who analyzes investment strategies and disseminates analyses. Kiedrowski encourages all investors to conduct their own research and due diligence prior to investing. Please feel free to comment and provide feedback, the author values all responses. The author is the founder of stockoptionsdad.com a venue created to share investing ideas and strategies with an emphasis on options trading.