Hello traders everywhere. As we come to the end of the third quarter in 2017, let's take a look at where the markets stand heading into the fourth quarter.
The S&P 500 is on pace for quarterly gains of nearly 4% percent and its eighth straight quarter of gains dating back to October of 2015.
The DOW is on track for a third straight quarter of gains standing at 4.8%; this is its eighth straight quarter of gains. That's the first time it's happened since 1997.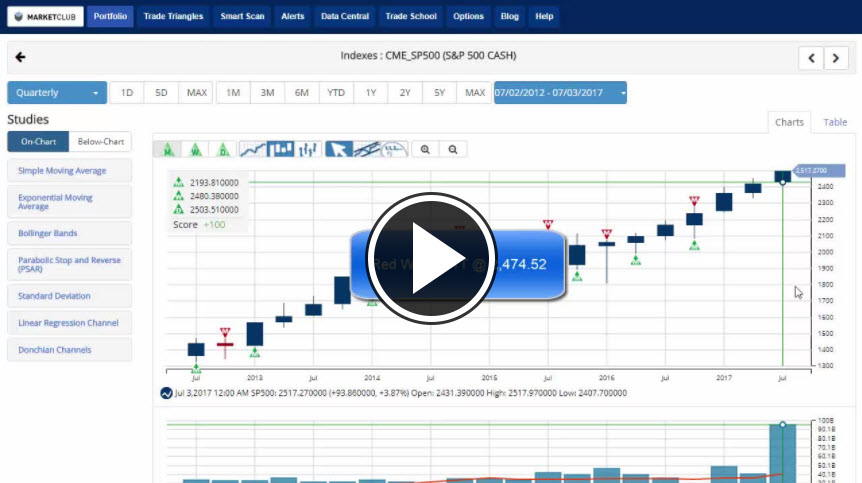 The NASDAQ composite is on it's way to quarterly gains of almost 6%, its fifth consecutive positive quarter since 2015.
Even with the recent gains over the last few days, the U.S. Dollar continues to weaken losing a little over 2% in the quarter.
Crude Oil is looking to close out the third quarter of 2017 with a stellar gain of 10% effectively wiping out the 10% loss in the second quarter of this year.
Gold is posting a quarterly gain of almost 3% following a modest loss of .8% last quarter.
Key levels to watch next week:
S&P 500 (CME:SP500): 2,474.52
Dow (INDEX:DJI): 21,927.79
NASDAQ (NASDAQ:COMP): 6,343.94
Gold (NYMEX:GC.Z17.E): 1,299.20
Crude Oil (NYMEX:CL.X17.E): 51.22
U.S. Dollar (NYBOT:DX.Z17.E): 91.16
Every Success,
Jeremy Lutz
INO.com and MarketClub.com