Hello traders everywhere. Tax Reform has taken center stage this week as the House approved its version of the legislation. We now wait on the Senate who is still debating its own plan.
I feel like the market is uncertain about the tax bill's ability to move to the next stage of approval, thus letting some volatility enter the picture as indicated by the VIX and the recent market action over the past few days. The VIX hit it's highest level since August.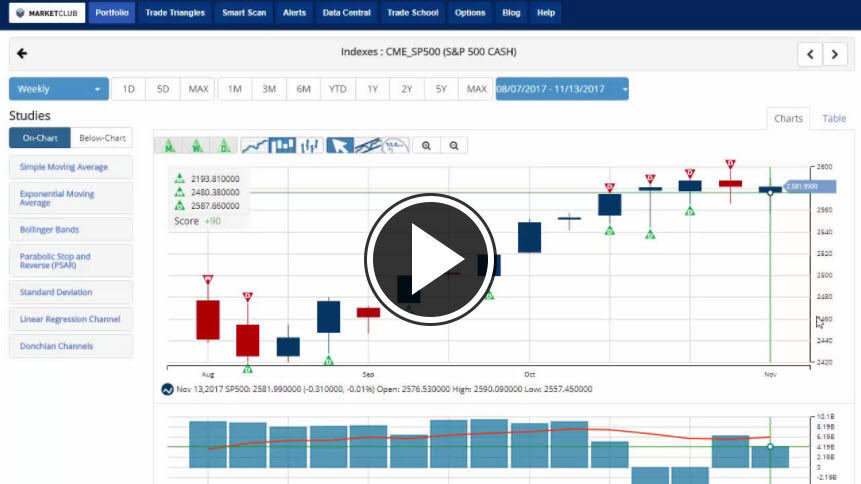 Elsewhere, bitcoin is hovering just under $8000. Crude oil jumped to $56 a barrel as Saudi Arabia, and OPEC moved to dispel doubts over Russia's readiness to extend output curbs. The Japanese yen gained the most in more than two months against the dollar and the emerging market shares headed for the highest close in six years.
Key levels to watch next week:
S&P 500 (CME:SP500): 2,557.45
Dow (INDEX:DJI): 23,602.12
NASDAQ (NASDAQ:COMP): 6,667.31
Gold (NYMEX:GC.Z17.E): 1,274.90
Crude Oil (NYMEX:CL.Z17.E): 56.77
U.S. Dollar (NYBOT:DX.Z17.E): 95.07
Bitcoin (CME:BRTI): 5,645.66
Every Success,
Jeremy Lutz
INO.com and MarketClub.com