Analysis originally distributed on February 28, 2018 By: Michael Vodicka of Cannabis Stock Trades
Back in June of 2017, the Toronto Stock Exchange recorded its largest Canadian cannabis IPO ever.
The event generated a lot of attention for the company going public and the broader cannabis sector.
Not all of it was positive. In fact, there were plenty of bearish headlines in the financial media.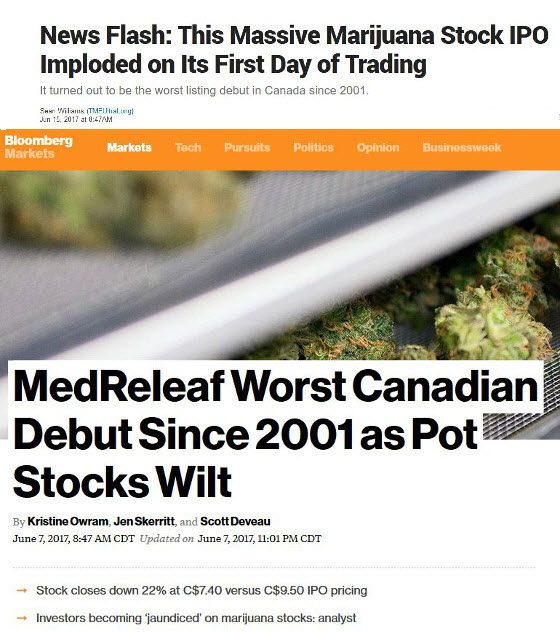 Despite the bearish headlines, Cannabis Stocks Trades saw the long-term potential and added shares to our model portfolio in early June.
Nine months later, shares of Medreleaf (LEAF) are up 158% - even after a recent pullback.

This was a nice win for investors who saw the bigger picture opportunity and ignored the short-term, fear-mongering headlines.
If you missed the big jump higher, don't worry. Today - I see this same cycle repeating itself.
On March 19, the Toronto Stock Exchange is expected to break its record for the largest cannabis IPO ever.
This up and coming Canadian cannabis company:
Secured coveted licenses from Canadian regulators to grow and sell cannabis.
Raised $160 million in private capital.
Is building cannabis greenhouses that could total 1 million square feet.
Is positioned and branded as an organic, low-cost provider.
The Green Organic Dutchman (TSX:TGOD) is looking to make a big splash in Canada's recreational cannabis market.
Shares of TGOD are scheduled to begin trading on the Toronto Stock Exchange on March 19.
Just like Medreleaf last summer, this is expected to be the largest Canadian cannabis IPO ever with a projected market value of potentially more than $1 billion.
Its size alone makes this a cannabis IPO we want to follow.
However, TGOD also looks well positioned to cash in on Canada's high-growth recreational market.
TGOD Has Secured Permits From Canadian Regulators To Grow And Sell Cannabis
Getting a permit to grow or sell cannabis in Canada is not easy. It can take years and cost tens of millions of dollars. At this point, around 50 permits have been issued while thousands remain backlogged or rejected.
TGOD has already cleared this regulatory hurdle.
In August 2016, TGOD received a license to cultivate cannabis.
And one year later in August of 2017, TGOD received a license to sell cannabis.
TGOD isn't exactly a first mover in Canada's cannabis industry. But these permits alone place TGOD ahead of hundreds of other competitors still struggling to their hands on a permit that could be months or even years away.
TGOD Raised $160 Million In Private Capital In The Last 12 Months
TGOD looks well funded. The company has already raised $160 million in private funding.
$55 million of that funding came from Aurora Cannabis (ACBFF), one of the largest cannabis companies in Canada and an early industry leader.
The IPO will give TGOD even more cash to invest in growth.
TGOD Is In The Early Stages Of Building A 1 Million Square Foot Cannabis Greenhouse
TGOD is using its cash to build two state of the art cannabis greenhouses that could total more than 1 million square feet.
On September 27, TGOD announced it had purchased a 75-acre property located in Salaberry-de-Valleyfield, Quebec (the "Quebec Property").
TGOD has big plans for its Quebec property - with the potential to house 820,000 square feet of production.
The facility is being developed in phases. Phase one started last fall.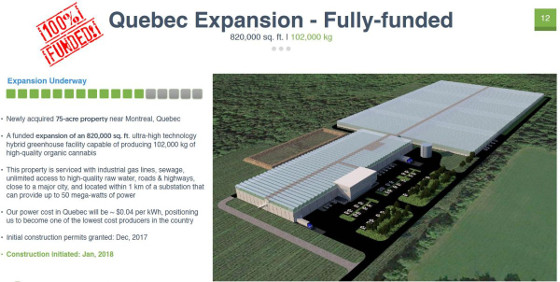 TGOD is also expanding an Ontario facility, which could eventually reach 150,000 square feet of production capacity.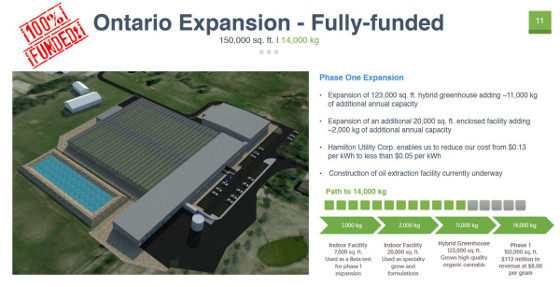 With these two facilities coming online, and growing production capacity sharply in the next 12 months, TGOD looks well positioned to cash in Canada's high-growth recreational market.
Positioned as Organic, Low-Cost Producer
TGOD is creating a unique selling proposition in the Canadian cannabis sector as an organic producer. This kind of market niche and consumer branding can go a long way for sales growth and brand loyalty, and I think its a smart angle.
Risks to Consider
Early investors in an IPO can be subjected to extreme volatility.
Action to Take
TGOD looks like it could make a big splash in Canada's recreational market. It owns coveted permits, is well funded, building huge cannabis greenhouses and branding itself as an organic provider. This is a stock to keep an eye on when shares start trading on March 19.
Enjoy,
The information contained in this post is for informational and educational purposes only. The trading ideas and stock selections represented on the Cannabis Stock Trades website are not tailored to your individual investment needs. Readers and members are advised to consult with their financial advisor before entering into any trade. Cannabis stocks carry a certain level of risk and we accept no responsibility for any potential losses. All trades, patterns, charts, systems, etc. discussed are for illustrative purposes only and not to be construed as specific advisory recommendations. All ideas and material presented are entirely those of the author and do not necessarily reflect those of the publisher.