Hello traders everywhere. Stocks traded sharply lower earlier in the day on fears that a Trump trade war could take place after President Donald Trump announced tariffs on steel and aluminum imports.
Trump announced on Thursday that the U.S. would implement a 25 percent tariff on steel imports and a 10 percent tariff on aluminum imports next week. The news sent stocks reeling, with the Dow closing 420 points lower, while the S&P 500 and Nasdaq dropped more than 1 percent. It has also raised concern that other countries may implement retaliatory tariffs on U.S. exports.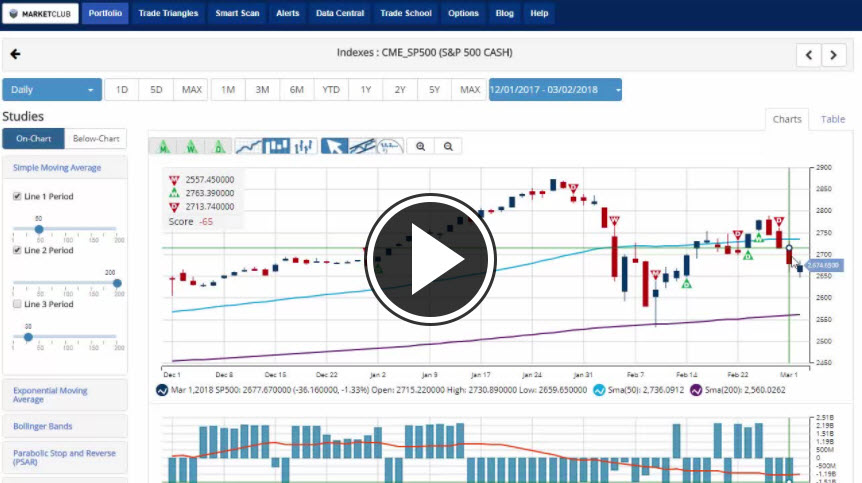 The S&P 500 traded 0.2% higher after falling more than 1% in early trading but has slipped back into negative territory losing .20%. The S&P 500 is down 2.6% for the week.
In volatile trading, The Dow Jones industrial average traded 70 points lower after falling as much as 391 points, but has since dropped back below a 200 pt loss on the day. Overall the DOW is down 3.4% on the week.
The NASDAQ had risen as much as 0.6% from its low of 7,084.33, a fall of 1.3%, only to slip back into negative territory this afternoon. The NASDAQ is posting a 1.9% loss for the week.
The U.S. Dollar briefly traded higher before retreating lower on the day, but it is trying to post a positive week by seeking out a .2% gain.
Crude Oil continues to trade lower for the week and will post a loss greater than 3%. Oil is coming under pressure due to rising inventory in the U.S.
As volatility picks up steam gold is the beneficiary posting a 1.3% gain on the day. However, it's been a tough week for gold, and it's still posting a .65% loss for the week.
Key Levels To Watch Next Week:
S&P 500 (CME:SP500): 2,622.45
Dow (INDEX:DJI): 24,217.76
NASDAQ (NASDAQ:COMP): 6,779.49
Gold (NYMEX:GC.G18.E): 1,326.60
Crude Oil (NYMEX:CL.J18.E): 63.44
U.S. Dollar (NYBOT:DX.H18.E): 88.15
Bitcoin (CME:BRTI): 8,023.84
Every Success,
Jeremy Lutz
INO.com and MarketClub.com