Analysis originally distributed on May 2, 2018 By: Michael Vodicka of Cannabis Stock Trades
There are few things that can send a stock soaring like a buyout. Right now I see a wave of buyouts ready to pop off in the Australian cannabis sector- and I want to show you how you can profit. Let's take a closer look.
Cann Group, Inc.(CNGGF) is an early industry leader in Australia's high-growth cannabis market.
In 2017, it became the first Australian recipient of research & medicinal cannabis cultivation licenses and the only company to have licenses reissued for year two.
Since acquiring these permits, Cann Group has been investing millions into expanding production and medical research.
For example, Cann Group is building a new state of the art cannabis greenhouse and R&D center with the ability to grow thousands of pounds of cannabis every month.
Funding has been secured for all three stages of the project. This new facility will be the nucleus of Cann Group's potential expansion across Australia.
Cann Group's aggressive moves have attracted the attention of the world's largest cannabis companies – and sent shares soaring.
Last week, shares of Cann Group jumped more than 20% in one day on rumors the company would be bought by Aurora Cannabis (ACBFF), one of the largest cannabis companies in the world that already owns 23% of Cann Group.
That 20% spike was a windfall of cash for all shareholders – particularly early shareholders.
Cann Group is now up 455% in the last 12 months. Take a look at the huge gain below.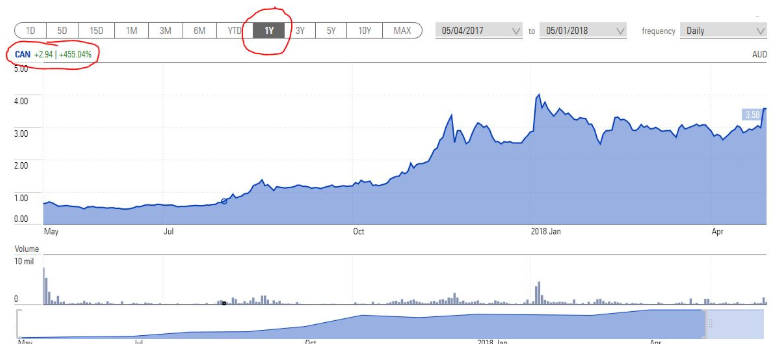 Cannabis Stock Trades members cashed in on Cann Group's big move.
We sent out a buy signal on Cann Group on July 31, 2017, at $0.69. Since then shares are up 434% – recently closing at $3.65.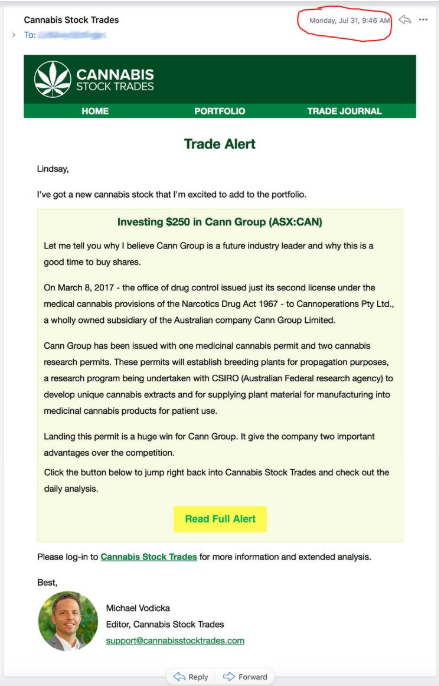 If You Missed Out On The Big Gain – Do Not Panic – I Have Good News!
If you missed out on Cann Group's big profit don't worry, I see this exact same pattern unfolding with another early leader in Australia's high-growth cannabis market.
If my calculations are correct – shares of this undercover Australian cannabis stock are set to soar in the next two months as Australia's next great buyout target.
AusCann Looks like the Perfect Buyout Target for Canopy Growth Corp
Auscann Holdings (ACNNF) has a lot in common with Cann Group.
Last year Auscann joined Cann Group as the only company to secure permits to grow and sell cannabis.
That was a huge win for AusCann, giving the company valuable first-mover advantage. Since then, similar to Cann Group, AusCann has been investing millions into expanding production and building a global distribution network.
For example, AusCann is expanding into South America. It has a partnership with JV DayaCann, the only licensed grower of medical cannabis in Chile.
AusCann has also partnered with one of the worlds largest growers of poppies. In early May Auscann announced a partnership with Australian Tasmanian Alkaloids, which grows 40% of the worlds poppy crops. The companies aim to create cultivation, manufacturing and distribution channels for medicinal cannabis in Australia and internationally.
Potentially most important in the buyout conversation, Auscann is already cozy with the largest cannabis company in the world
Canopy Growth Corp (TWMJF) is the single largest shareholder in Auscann with a 10% ownership stake.
That's good for a few reasons.
Canopy will share its cultivation knowledge and other resources with Auscann.
Canopy will supply Auscann with cannabis while it develops its own cultivation facilities.
And finally, I expect Canopy to eventually purchase Auscann and roll it into its broader operations.
In terms of size, Canopy can easily swallow up AusCann. Auscann has a market cap of $350 million. Canopy is worth about $5 billion. It would be very easy for Canopy to buy AusCann.
Shares are Ready to Breakout on the Chart
Auscann is already in breakout formation on the chart. Shares are trading in a narrow range near the 52-week high. Take a look.

Looking forward I am expecting Auscann to rally back to the 52-week high and charge deep into a new high. If a buyout comes through, I am expecting an even bigger move.
Risks to Consider
Canadian stocks face a key legislative vote on June 7. That might cause Canadian companies to be more cautious on buyouts in the short run.
Action to Take
Auscann is an early leader in Australia's high-growth cannabis market. Auscann also looks like a great buyout target for a large Canadian cannabis company such as Canopy.
Enjoy,
The information contained in this post is for informational and educational purposes only. The trading ideas and stock selections represented on the Cannabis Stock Trades website are not tailored to your individual investment needs. Readers and members are advised to consult with their financial advisor before entering into any trade. Cannabis stocks carry a certain level of risk and we accept no responsibility for any potential losses. All trades, patterns, charts, systems, etc. discussed are for illustrative purposes only and not to be construed as specific advisory recommendations. All ideas and material presented are entirely those of the author and do not necessarily reflect those of the publisher.