Analysis originally distributed on May 23, 2018 By: Michael Vodicka of Cannabis Stock Trades
Back in January 2018, California legalized recreational cannabis. It was a huge breakthrough for the US cannabis industry and it sent cannabis stocks operating in California soaring.
For example, Innovative Industrial Properties (IIPR), a US cannabis company headquartered in San Diego California, jumped almost 100% in the month leading up to California going legal. Shareholders were rewarded with some big gains in a short time.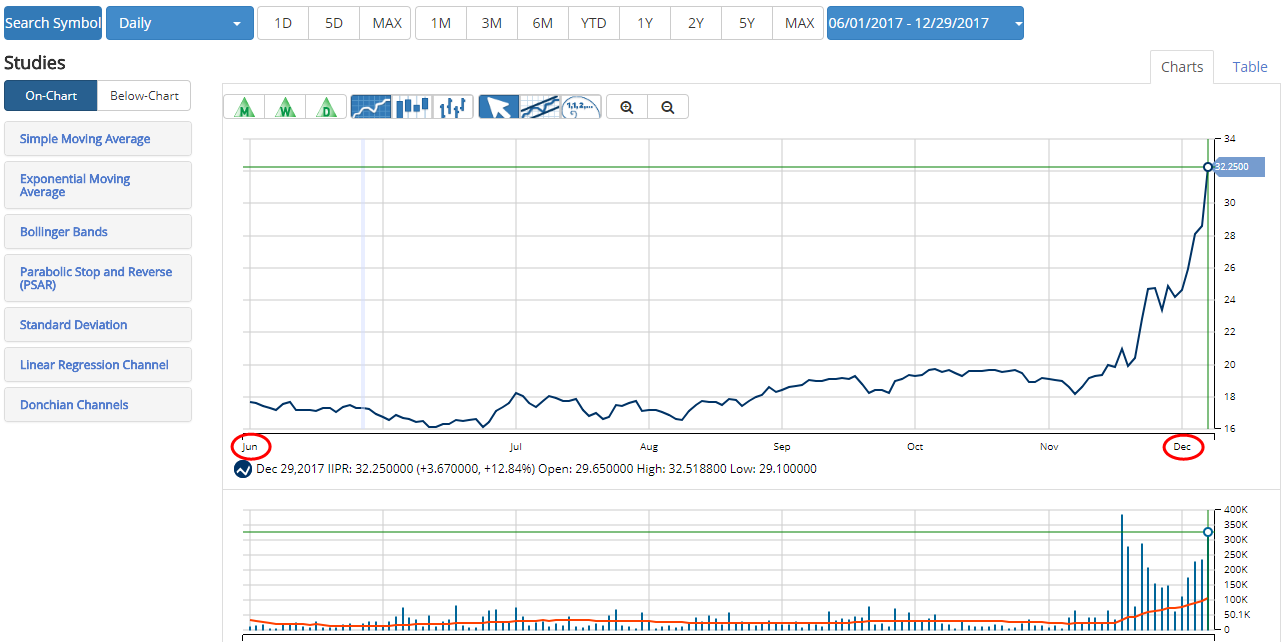 Today – I see this same pattern repeating itself on the other side of the country.
Massachusetts is set to legalize recreational cannabis on July 1 – a little more than a month away.
According to market-research firm New Frontier Data, sales should be around $500 million in 2018 and jump to more than $1 billion by 2020.
This is creating another great opportunity for cannabis investors.
Similar to Canada, Massachusetts requires any company that wants to grow or sell cannabis to acquire a permit.
Right now, while hundreds of companies wait in line for a permit, a small group of little-known cannabis companies has already secured the permits needed to grow and sell cannabis.
These companies are sitting on a lottery ticket. The small number of companies that have landed a permit are in a position to scoop up millions in new sales, gain customer loyalty and establish a valuable first-mover advantage.
Today – I am going to reveal three little-known cannabis companies that are direct plays on Massachusetts going legal in July.
Marimed (MRMD) is a US-based cannabis company headquartered in Newton, Massachusetts. In June of 2017 Marimed announced the purchase of a 137,500 square foot industrial building on 17 acres in a New Bedford, Mass. industrial park for a purchase price of $6,895,000. MariMed has been developing approximately 70,000 sq. ft. into a full-service state of the art medical cannabis cultivation and production facility that has been leased to ARL Healthcare, Inc. (ARL), a Massachusetts not for profit corporation.
MPX Bioceutical (MPXEF) is a young Canadian cannabis company that is already cashing in on the high-growth US cannabis market. Back in June of 2017 MPX announced that its wholly-owned subsidiary CGX Life Sciences, Inc. (CGX), had completed the acquisition of a 51% interest in IMT, LLC and Fall River Developments, LLC, Massachusetts registered companies active in the cannabis space.
While not cultivating or selling cannabis products themselves, IMT and FRD provide support to Cannatech Medicinals Inc., which is licensed to directly cultivate, produce, own, possess and sell cannabis and cannabis-infused products. MPX is also supporting the development of a new cultivation facility with 2.25 million grams of flower production capacity, as well as 500,000 grams annually of high-margin concentrates capacity.
Marimed is also in the early stages of opening three cannabis dispensaries in Massachusetts.
iAnthus Capital Holdings (ITHUF): is a financial company headquartered in New York City that is making big investments in the US cannabis industry – and specifically Massachusetts.
iAnthus recently announced a flurry of deals in Massachusetts, investing in cannabis production and dispensaries.
On January 2 iAnthus announced that its portfolio company Mayflower Medicinals, Inc. received its final certificate of registration and certificate of occupancy from Massachusetts regulators and local officials to begin cannabis cultivation and production operations at its facility in Holliston, Massachusetts.
Mayflower is a non-profit Massachusetts corporation that has received two provisional licenses to operate Registered Marijuana Dispensaries in Massachusetts, with a third RMD application pending before the Massachusetts Department of Public Health.
With state-of-the-art cannabis cultivation, commercial kitchen, and processing capabilities, iAnthus believes that Mayflower's Holliston facility is one of the most advanced in the United States.
On April 17 iAnthus announced it had acquired the final 20% of Pilgrim Rock Management, LLC, the affiliated management and services company that provides intellectual property licensing, professional and management services, real estate and equipment leasing, and certain other services to Mayflower Medicinals, Inc.
iAnthus also provided an update on its 36,000 square foot cannabis greenhouse in Massachusetts.
Mayflower's 36,000 cultivation facility in Holliston is fully operational, and its first extraction cycle for a processed product was completed last week.
Mayflower's first harvest will be shortly moving to the drying and curing rooms. The first harvest, as a pilot, utilized a subset of the facility's total grow space. Mayflower will quickly move to optimize the full capacity of the facility in subsequent harvests.
The flagship Harvard Avenue dispensary in the Allston neighborhood of Boston is now completed and staffed. Pending final regulatory approval, Mayflower expects to open in early May 2018 to medical patients.
Shares Are Up More Than 75% Since Bottoming Out In Late March
iAnthus has been rallying on the string of good news.
Shares are up 75% since bottoming out in late March.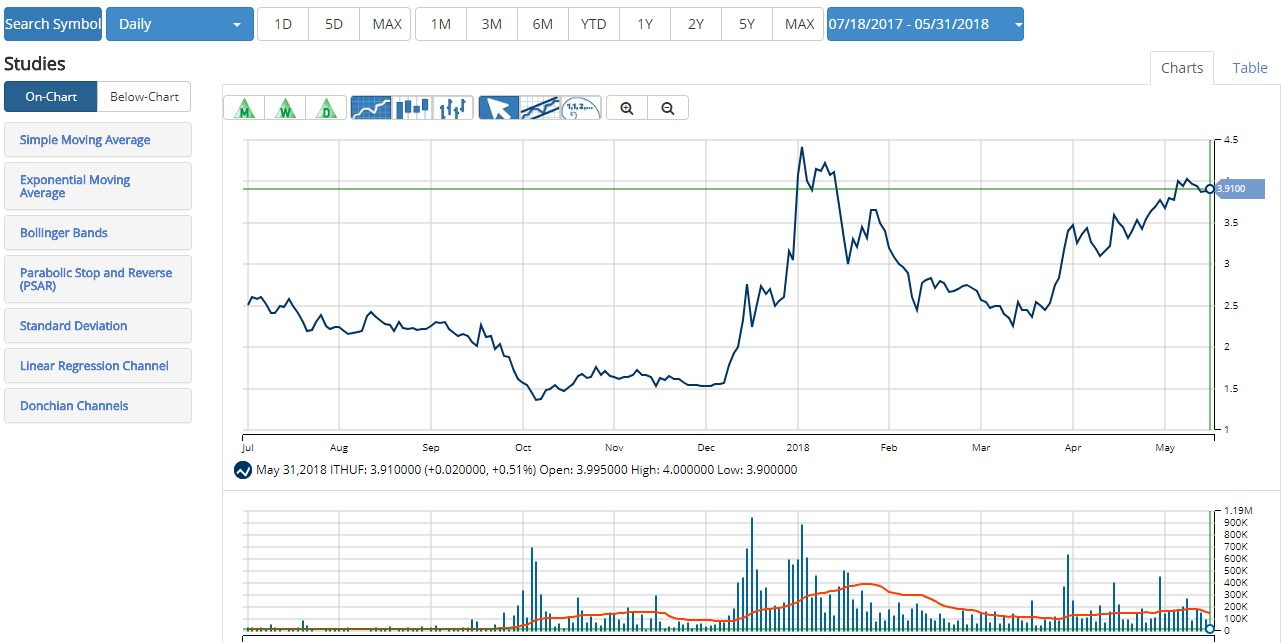 Shares are a little overbought in the short run. However – I am still expecting shares to advance back to the high and break out into a new 52-week high.
Risks to Consider
Massachusetts cannabis entrepreneurs have been upset about all the regulations and permits required to get up and running. I am expecting legal and operational speed bumps in the short run. But as Massachusetts works out those kinks I am expecting the cannabis sales to take flight.
Action to Take
Massachusetts is about to legalize recreational cannabis and it should trigger millions in new sales. A small group of cannabis companies that have already landed permits to grow and sell cannabis are sitting pretty, ready to cash in on millions in new sales.
Enjoy,
The information contained in this post is for informational and educational purposes only. The trading ideas and stock selections represented on the Cannabis Stock Trades website are not tailored to your individual investment needs. Readers and members are advised to consult with their financial advisor before entering into any trade. Cannabis stocks carry a certain level of risk and we accept no responsibility for any potential losses. All trades, patterns, charts, systems, etc. discussed are for illustrative purposes only and not to be construed as specific advisory recommendations. All ideas and material presented are entirely those of the author and do not necessarily reflect those of the publisher.