Analysis originally distributed on June 28, 2018 By: Michael Vodicka of Cannabis Stock Trades
October 30, 2017 was one of the best days of the year for the young cannabis industry.
That's the date when Constellation Brands (STZ), the second-largest US beer maker, announced a 10% stake in Canopy Growth Corp. (CGC/WEED), the largest Canadian cannabis company.
It was a groundbreaking moment for the cannabis industry because it was the first time that a big alcohol company had invested directly in a cannabis company.
Not only did it give the young cannabis industry tons of credibility, it also sets the stage for big alcohol to invest billions into the cannabis industry in the next few years.
In the short run, Canopy shares jumped more than 23% in one day on the news.
In the long run, it triggered a 10-week rally in Canopy – and the entire cannabis sector – that sent shares deep into a new all-time high. Take a look.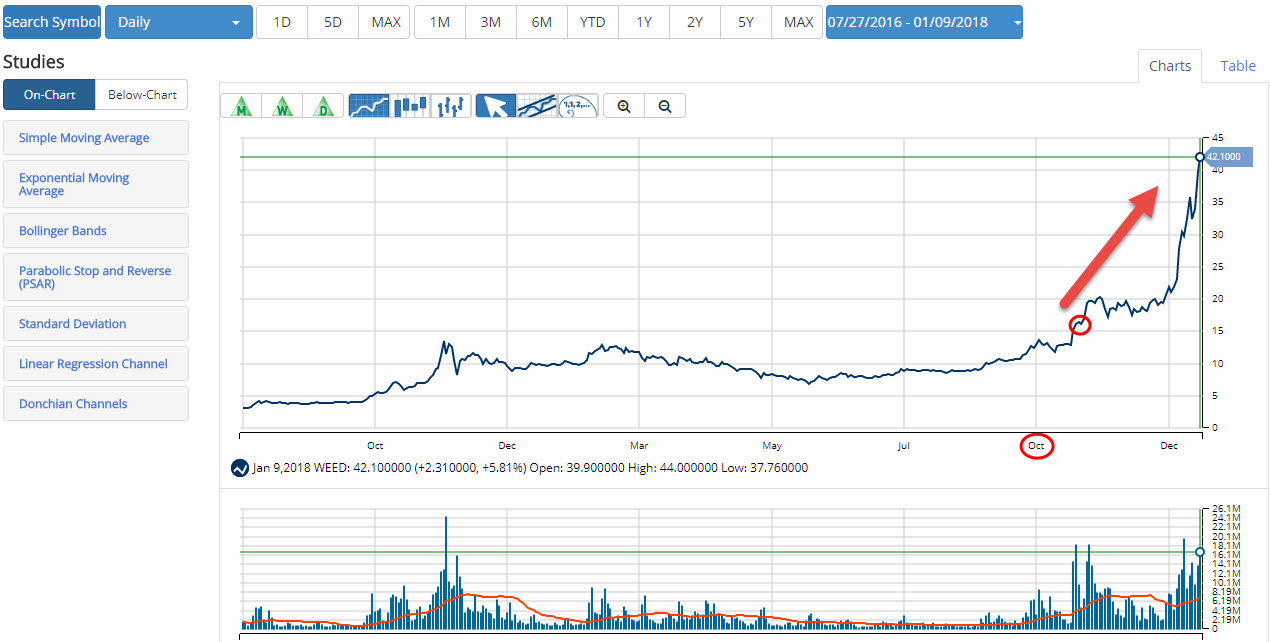 Chart courtesy of MarketClub.com
Today I see this same cycle about to repeat itself.
Rumors began swirling days ago that the third-largest beer maker in the US is in talks to buy or partner with a leading Canadian cannabis company.
This could be a repeat of the chart above, and I am going to show you how to potentially profit.
Molson Coors Eyeing Canadian Cannabis Partner
Another potential blockbuster deal is brewing between big alcohol and the young cannabis industry.
Bloomberg reported this week that Molson Coors (TAP), the third largest US brewer, is in deal talks with a few Canadian cannabis companies.
Here are some more details directly from Bloomberg:
Molson Coors Brewing Co. has been engaged in discussions with several Canadian-based cannabis companies to invest in them and collaborate on future cannabis-infused beverages in a move aimed at stemming the brewer's declining beer sales, multiple sources familiar with the matter have told BNN Bloomberg.

The tie-up would see another major U.S. player enter the lucrative cannabis market ahead of Canada legalizing recreational cannabis on Oct. 17. Molson Coors has spent the past six months engaged with as many as four separate cannabis companies, including Aphria Inc. and Aurora Cannabis Inc., discussing its plans to enter the marijuana space and the discussions are said to be serious, the sources said. A deal could be announced before the end of the year, one of the sources said.
Molson Coors said to be in talks with pot firms as legalization looms
I am expecting to see an official deal hit the wire much sooner than later — within a couple of weeks.
My experience has shown me that when M&A rumors are leaked to the Street – a deal is close at hand.
If that happens, I expect shares of Aurora or Aphria to spike higher.
In the long run, news of a big new deal could easily trigger a multi-month rally in the entire cannabis sector.
Here's a closer look at the two stocks at the two primary targets.
Aurora Cannabis (ACBFF) is one of the largest Canadian cannabis companies and an early industry leader. Aurora looks like an ideal way for big alcohol to enter the cannabis market. Aurora is hugely ramping its production capacity with Aurora Sky, a new cannabis greenhouse that will be over one million square feet when complete. This will make Aurora one of the cannabis industries lowest cost producers, a key factor for long-term success. After seeing huge gains in 2017, Aurora is down in 2018. I see that as an opportunity to buy the dip.
Aphria (APHQF) is also one of Canada's largest cannabis companies with a similar business model to Aurora. Aphria is also ramping production and looking to become one of the cannabis industries lowest-cost producers. Aphria shares were also up big in 2017 but have been down in 2018. That is creating a great value opportunity for longer-term investors.
Risks to Consider:
Aurora and Aphria shares have both been rebounding in the last two weeks as investors anticipate good deal news. If the deal falls through shares could see a little pullback as shorter-term traders rotate out of shares.
The Big Picture:
I see another mega deal brewing between big alcohol and the young cannabis industry. History tells me these deals can be a huge catalyst for shares and the entire cannabis sector. Keep your eye on Aurora and Aphria, both are in play and could see a nice pop any time.
Enjoy,
The information contained in this post is for informational and educational purposes only. The trading ideas and stock selections represented on the Cannabis Stock Trades website are not tailored to your individual investment needs. Readers and members are advised to consult with their financial advisor before entering into any trade. Cannabis stocks carry a certain level of risk and we accept no responsibility for any potential losses. All trades, patterns, charts, systems, etc. discussed are for illustrative purposes only and not to be construed as specific advisory recommendations. All ideas and material presented are entirely those of the author and do not necessarily reflect those of the publisher.