The entire pharmaceutical supply chain cohort, specifically, McKesson (MCK), Cardinal Health (CAH), CVS Health (CVS) and Walgreens Boots Alliance (WBA) are all near multi-year lows despite still posting growth albeit slow with healthy balance sheets and growing dividends. This cohort has been faced with several headwinds that have negatively impacted the growth, and the changing marketplace conditions have plagued these stocks. The political backdrop has been a major headwind for the entire pharmaceutical supply chain including drug manufacturers, pharmaceutical wholesalers, and pharmacies/pharmacy benefit managers. Compounding the political climate, the drug pricing debate continues to rage on throughout political and social media circles weighing on the overarching sector. This backdrop erodes the pricing power of drugs that ultimately move from drug manufacturers to patients with insurers and other middlemen playing roles in the supply chain web.
In an effort to address these headwinds and restore growth, companies within this cohort have made bold moves such as CVS acquiring Aetna (AET) to form a colossus bumper-to-bumper healthcare company. Cardinal Health shelled out $6.1 billion to acquire Medtronic's Patient Care, Deep Vein Thrombosis, and Nutritional Insufficiency business. McKesson has made a string of acquisitions over the past two years deploying $1.2 billion for Biologics, $2.1 billion for Rexall and $525 million for Vantage Oncology in 2016. This was followed by a $1.1 billion acquisition of CoverMyMeds, undisclosed acquisition costs for RxCrossroads and Well.ca in 2017. Thus far in 2018, McKesson acquired Medical Specialty Distributors.
This cohort overall is making bold acquisitions, heeding the competitive threats from the likes of Amazon (AMZN), possess great balance sheets, growing dividends, share buyback programs and more often than not posting growth albeit slower growth. These stocks are value stocks that provide a margin of safety, largely de-risked considering the multi-year lows, are very inexpensive relative to the market and as these stocks more into favor on Wall Street they could witness a nice resurgence.
The Elephant – Amazon Threat
Amazon has officially entered the retail space via the Whole Foods acquisition and now the pharmaceutical space with its PillPack acquisition. It had been rumored for months that Amazon was gearing up to gain entry in the potentially lucrative $560 billion prescription drug space by leveraging the Whole Foods storefronts. Amazon ramped up hiring and talent acquisition to build an internal pharmacy benefits manager for its employees. This internal effort was viewed as a proof-of-concept for the broader drug supply chain effort.
Amazon's initial efforts ended in a futile attempt as it would not pursue entry into this space after a deal couldn't be reached to sell and distribute pharmaceutical products through Amazon Business. A major challenge was the complex nature of selling to hospitals in bulk and building a logistics infrastructure to contend with pharmaceutical deliveries. Amazon was unable to convince big hospitals to change their traditional purchasing process and the need to build a more sophisticated logistics network to handle temperature-sensitive pharmaceutical products.
Now Amazon is making a strong statement as it intends to gain entry into the healthcare market. Upon the news that Amazon was acquiring PillPack, companies within the space sold-off hard with Rite Aid, Walgreens and CVS losing nearly $13 billion in market value. PillPack organizes packages of medications for patients and is licensed in 49 states. PillPack generally caters to people with multiple chronic conditions who can benefit from its drug sorting capabilities. Most drugstores and pharmacy benefits managers, firms that administer prescription drug plans, already offer mail services.
Per Jefferies analyst Brian Tanquilut:
"I think it's an overhang more than anything else," and "It's hard to figure out what it really does or when it impacts the pharmacies, but it weakens sentiment on the group further. PillPack is already in the market, so it shouldn't have much of an incremental impact until Amazon figures out how to grow its share and expand it by integrating it into the app."
So, where does that leave companies that play in this space and what actions are they implementing to fend off threats such as Amazon?
CVS and Aetna
To further boost long-term growth prospects and fend off potential competition, CVS made a move to acquire Aetna and creates the first through-in-through healthcare company, combining CVS's pharmacies and PBM platform with Aetna's insurance business. Collectively, the acquisition is valued at $78 billion between stock and cash. This new CVS will combine its existing pharmacy benefits manager (PBM) and retail pharmacies with the second largest diversified healthcare company. This is a bold and hefty price tag to pay yet may be necessary to compete in the increasingly competitive healthcare space in the face of drug pricing pressures. CVS is making a defensive yet necessary acquisition moving into the future.
"This combination brings together the expertise of two great companies to remake the consumer healthcare experience." "With the analytics of Aetna and CVS Health's human touch, we will create a healthcare platform built around individuals." CVS President and CEO Larry Merlo said in a statement.
The acquisition will provide CVS with more scale to bargain for better prices for the prescription drugs it sells through its PBM business. For Aetna, the deal is a pivot after its attempted merger with Humana was blocked on antitrust grounds. I think CVS will be benefit in the long-term as this is a much-needed move in order to fend off competition in the space and restore growth within the company. As CVS transitions and realigns its business to adapt to the changing healthcare space along with Amazon's nascent competitive threat, I feel the stock is too cheap to ignore at these levels.
As far as the PillPack threat goes, CVS offers one- and two-day delivery to all of its retail pharmacy customers nationwide and extended its same-day delivery to more cities. CVS already offers similar services and issued a statement.
"We already have the capabilities that PillPack is offering, and we have scale in the business. Keep in mind, that we have not seen a large shift of patient that are looking for their medications to be delivered versus coming to a retail pharmacy. And for those patients that do desire to transition, we offer the option to ship their prescriptions to their home from our pharmacies or obtain the prescriptions through our Caremark mail facilities."
McKesson's Acquisitions
McKesson has made a series of acquisitions and partnerships over the last two years to position itself for future growth. Albeit concerns regarding the traditional distribution model are being challenged and pricing competition has taken hold in the space, McKesson has been highly acquisitive, growing dividends over time and buying back its shares to drive shareholder value. Despite its major acquisitions and partnerships (UDG Healthcare plc, Sainsbury's pharmacies, Vantage Oncology, Biologics, Rexall Health, Albertsons, Wal-Mart, and CoverMyMeds) to position itself for growth, these efforts have been overcome by drug pricing concerns, political backdrop, middleman pressures, pricing competition and declining revenues. McKesson also announced its acquisition of Canadian pharmacy group Uniprix. Uniprix operates 330 independent pharmacies, and in 2009 it rejected McKesson's takeover offer. Recently, McKesson acquired RxCrossroads from CVS Health for $735 million to expand services and solutions for our manufacturer partners. RxCrossroads provides commercial support, customized pharmacy dispensing and logistics services to pharmaceutical and biotechnology manufacturers. McKesson is not sitting idly by and being proactive to contend with challenges in its space to grow and remain competitive.
Cardinal Health and Medtronic
Cardinal Health shelled out $6.1 billion to acquire Medtronic's Patient Care, Deep Vein Thrombosis, and Nutritional Insufficiency business to diversify its portfolio away from its core business.
Per Cardinal Health:
"This business provides our customers with more product offerings and includes some well-established brands that fit naturally within our portfolio and are complementary to our current medical products business. We know these products and many of the employees well, and have seen that our team members share a common commitment to quality, customer service and the patients who we all ultimately serve," said George Barrett, chairman, and CEO of Cardinal Health. "We are extremely excited about welcoming our new colleagues from around the world to Cardinal Health."
The Patient Care, Deep Vein Thrombosis, and Nutritional Insufficiency business encompass 23 product categories across multiple market sites of care, including numerous industry-leading brands, such as Curity, Kendall, Dover, Argyle, and Kangaroo – brands used in nearly every U.S. hospital.
The company also previously announced that it expects the acquisition to be accretive to non-GAAP¹ diluted earnings per share from continuing operations by more than $0.21 per share in fiscal 2018, net of incremental annual financing-related interest expense, and includes up to $100 million of step-up inventory costs during the first few quarters following closing. As previously disclosed, the company still expects the acquisition to be accretive to non-GAAP diluted earnings per share by more than $0.55 per share in fiscal 2019, and increasingly accretive after that. By the end of fiscal 2020, the company assumes synergies will exceed $150 million.
The Patient Care, Deep Vein Thrombosis, and Nutritional Insufficiency business will become part of Cardinal Health's Medical segment, which is led by Don Casey, the segment's chief executive officer. Integration efforts are off to a successful start, and it is expected that all integration work and transitions will be completed over the next 18 months.
Walgreens - "We are not particularly worried."
Walgreens hasn't particularly been active on the acquisition front however regarding Amazon, Walgreens CEO Stefano Pessina stated: "Yes, it's a declaration of intent from Amazon," "[But] the pharmacy world is much more complex than the delivery of a certain [pills or] packages." Walgreens is partnering with some health-care businesses, including health insurers Humana and UnitedHealth Group and lab testing provider LabCorp to add more health services to its stores.
Walgreens purchased 1,932 Rite Aid stores, three distribution centers, and related inventory for $4.375 billion in cash that was completed in spring 2018.
"This is a significant moment for our company, and we are excited about the opportunities this agreement will deliver for our customers and patients, employees and investors," said Walgreens Boots Alliance Executive Vice Chairman and CEO Stefano Pessina. "Combining Walgreens retail pharmacy network with a strong portfolio of Rite Aid locations is expected to help us achieve enhanced, sustainable growth while enabling us to broaden our reach and provide greater access to convenient, affordable care in more local neighborhoods across the United States. We are confident in the path ahead and look forward to working together to shape the future of healthcare and deliver on the full potential these stores bring to our network."
Walgreens also announced that its board of directors had authorized a share repurchase program for up to $10 billion of the company's shares.
The company also announced that its board of directors declared a quarterly dividend of 44 cents per share, an increase of 10 percent. The increased dividend is payable 12 September 2018 to stockholders of record as of 20 August 2018 and raises the annual rate from $1.60 per share to $1.76 per share. This marks the 43rd consecutive year that Walgreens Boots Alliance has raised the dividend. "Our new $10 billion share repurchase program demonstrates our commitment to return cash to stockholders in the form of dividends and share repurchases over the long term."
Compelling Valuations and Low P/E's
Currently, the entire pharmaceutical supply chain cohort is near all-time lows about share price, P/E and PEG ratios (Figure 1). Long-term revenue across the industry is slated to grow and with further consolidation brings cost efficiencies, pricing power, and scale. This cohort trades at compelling levels with strong dividends, share buybacks and consolidation taking place (Table 1).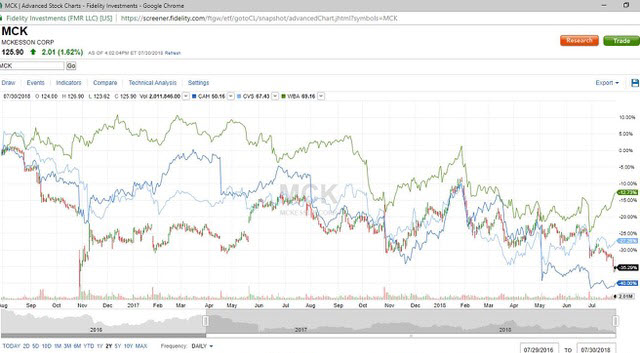 Figure 1 – Chart overlay of McKesson, Cardinal Health, CVS and Walgreens over the previous two years and overall returns


Table 1 – Collective summary of four companies within the pharmaceutical supply chain cohort
Summary
The pharmaceutical supply chain companies highlighted here are too cheap to ignore as the companies continue to make strategic acquisitions to grow its business long-term while expanding its moat to fend off competition. As healthcare costs and prescription drug costs continue to rise and the population continues to age with the elderly comprising a larger segment of the overall population the cohort is well positioned. This group overall is making bold acquisitions, heeding the competitive threats from the likes of Amazon with its PillPack acquisition. These companies possess great balance sheets, growing dividends, share buyback programs and more often than not posting growth albeit slower growth. These stocks are value stocks that provide a margin of safety, largely de-risked considering the multi-year lows, are very inexpensive relative to the market and as these stocks more into favor on Wall Street they could witness a nice resurgence.
Noah Kiedrowski
INO.com Contributor - Biotech
Disclosure: The author does currently hold shares of MCK and CAH. The author has no business relationship with any companies mentioned in this article. He is not a professional financial advisor or tax professional. This article reflects his own opinions. This article is not intended to be a recommendation to buy or sell any stock or ETF mentioned. Kiedrowski is an individual investor who analyzes investment strategies and disseminates analyses. Kiedrowski encourages all investors to conduct their own research and due diligence prior to investing. Please feel free to comment and provide feedback, the author values all responses. The author is the founder of stockoptionsdad.com a venue created to share investing ideas and strategies with an emphasis on options trading.