I have focused my attention on the recent price rotation in the Crude Oil market. I believe the recent downside rotation in price, while technically still in a bullish trend, is an excellent opportunity for traders to identify entry positions for a potential price rally to levels near or above $70~71 ppb.
My proprietary price modeling systems and price cycle systems are clearly illustrating that Oil prices should find support, bottom and rotate higher within the next 5~7+ days. I rely on these proprietary indicators and modeling systems to help understand when opportunities exist in the markets. When I can determine that price is moving counter to a primary trend and creating what I call a "price anomaly", where enhanced opportunity exists for a profitable outcome, I attempt to determine if this trigger warrants alerting our followers. In this case, I believe the opportunity for upside price action following this price rotation is exceptional.
This first chart shows our proprietary price cycle modeling system at work and clearly shows the key Fibonacci support levels that I believe will act as a floor for the price of Oil. I believe a bottom will form near $67 ppb and a new price rally will result in prices moving quickly back above $70 ppb.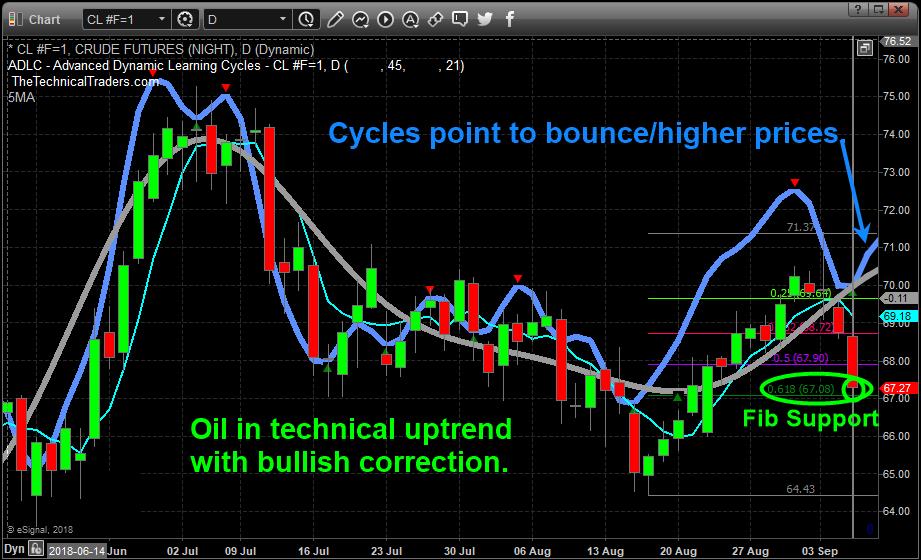 This second chart shows the XLE price cycles on a Daily basis and I want to highlight the potential for a price move from near $73 to well above $76 (or higher) if our analysis is correct. This reflects a +4~8% price move that I believe could happen within the next 5~10+ days.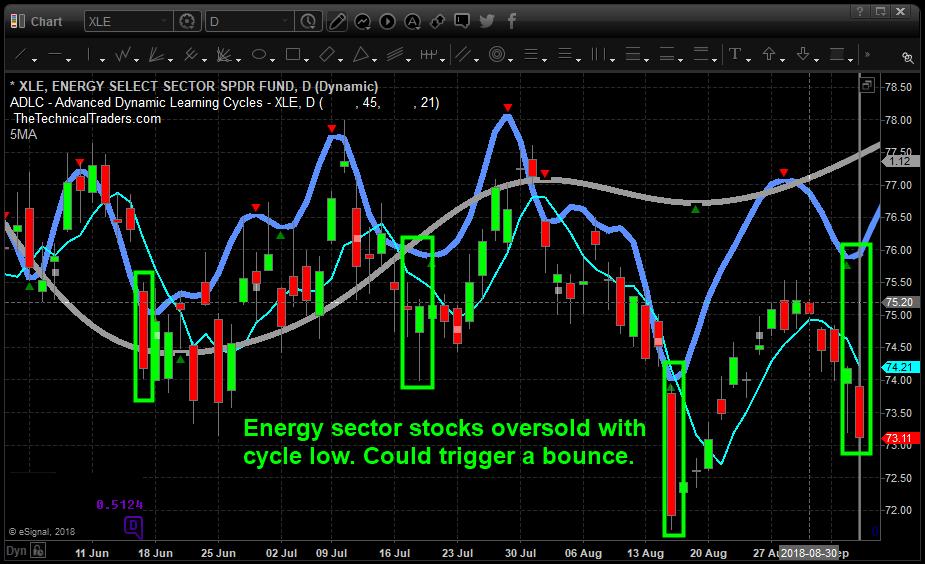 The research here shows a long entry trade over the next 2~3 trading days is ideal and that this move will likely end before September 21 (if the market does not change its current cycle patterns). Overall, this could be an opportunity for skilled traders and investors.
You don't have to be smart to make money in the stock market, you just need to think differently. That means: we do not equate an "up" market with a "good" market and vice versa – all markets present opportunities to make money!
We believe you can always take what the market gives you, and make a CONSISTENT money.
Learn more by visiting The Technical Traders!
Chris Vermeulen
Technical Traders Ltd.
Disclosure: This article is the opinion of the contributor themselves. The above is a matter of opinion provided for general information purposes only and is not intended as investment advice. This contributor is not receiving compensation for their opinion.