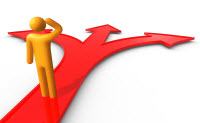 If you follow headline news, then we don't have to tell you about the kind of hit that the recent job report had on the major markets this week. OUCH. Just today the DJI fell 105 points, the S&P 500 lost 10 points, and the Nasdaq fell 21 points. The DOW alone shed over 400 points since Wednesday!
The increase in unemployment has caused major concern for experts, as well as all of us regular ol' citizens of the USA. The recent job report was a definite letdown, especially for economists who were predicting a rate of improvement from 9% to 8.9%. Yet here we are with an unemployment rate of 9.1%.

Loading ...
Be sure to Joins Susan, live at 1PM (ET) for your live update on the markets!