My team prepares Custom Valuations Index charts to understand how capital is being deployed in the global markets alongside US Dollar and Treasury Yields. The purpose of the Custom Index charts in this article is to provide better insight into and understanding of underlying capital movements in various market conditions. Recently, we discovered the Custom Index chart shares a keen alignment with Gold (and likely the general precious metals sector). Let's explore our recent analysis to help readers understand what to expect next in precious metals.
Weekly Custom Valuations Index Chart
The first thing that caught my attention was the very clear decline in the weekly Custom Valuations Index recently, as can be seen in the chart below. The second peak on the Custom Valuations Index chart occurred on the week of August 3, 2020. Gold also peaked at this very same time. This alignment started an exploratory analysis of the Custom Valuations Index and the potential alignment with the precious metals sector.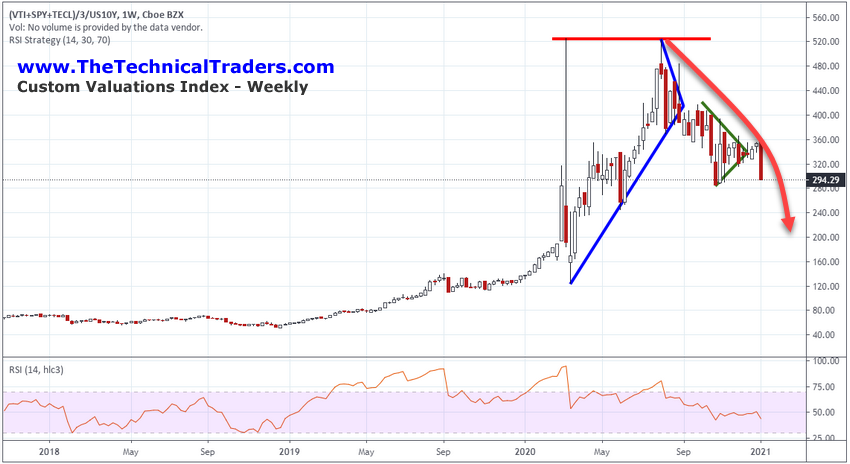 The peak in the Custom Valuations Index on March 20, 2020 (near the height of the COVID-19 market collapse) presented a very clear upside target which was confirmed with a second peak level in August 2020. The fact that the Custom Valuations Index reached that peak level again and that peak level also aligned with the peak price in Gold may just be a coincidence. As we continue to explore this unique alignment, we'll explore more unique characteristics to see if there is a link that is more than mere chance. Continue reading "Custom Valuations Index Suggests Precious Metals Will Decline" →