Tech stocks are having a great year as evidenced by the NASDAQ's gain of 7.2% year-to-date. Fueling the growth is the emerging trend with the "Internet of Things" (IoT). This fast growing segment in the technology industry is situated around big data, cloud computing, semiconductors, and wireless interconnectivity.
The landscape is a rich one for companies involved in the IoT field. The entire IoT industry will grow from $1.9 trillion in 2013 to $7.1 trillion by 2020 according to estimates made by the market research firm IDC. The increased strain on existing hardware and software infrastructures means that a more advanced form of storage will become necessary to handle the workload.
Big data is the answer. SNS Research's new report expects big data to be a $40 billion industry by the end of this year. Investments in this growing technology are estimated to grow at a CAGR of 14% over the next 5 years in fields ranging from mobile devices to scientific research to fraud detection. And with so much potential in big data, one company has emerged as the de facto leader in the industry.
A disruptive innovator with huge growth opportunities ahead
EMC Corporation (EMC) is a $52 billion company and stands out as the world's largest provider of data storage systems. The company provides data storage, information security, cloud computing, and other services that enable companies to store, manage, analyze, and protect information.
Despite the potential in big data, EMC's stock hasn't really performed well this year – down nearly 9% YTD. The company missed earnings for the first quarter reporting $0.31 per share as opposed to the analysts consensus of $0.36 per share. The miss was partially due to managements miscalculations however and not entirely attributed to a declining product line which could mean that the stock could be on sale at its current price.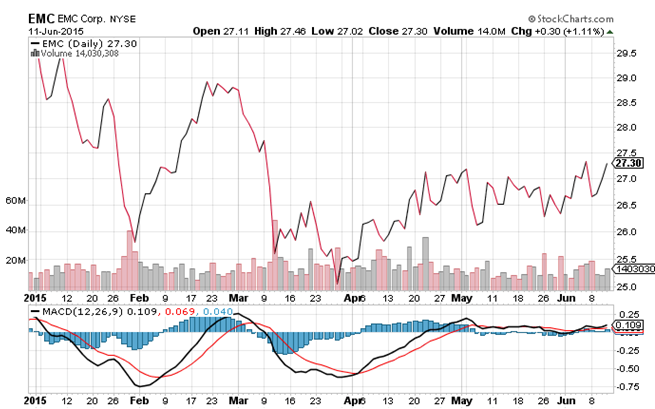 Chart courtesy of StockCharts.com
Based on EMC's chart, positive momentum appears to be building up in the stock. The stock should be in breakout territory once it crosses $27.50 while the downside appears to have already been priced into the stock price.
The stock looks cheap from a valuation perspective trading at just 14.2 times earnings in an industry where 16.7 is the average. The balance sheet looks strong with long term debt obligations of around $5.5 billion while cash holdings currently stand at about $4.4 billion. Last year, EMC increased its dividend which now pays out $0.46 per share annually for a total yield of 1.7% while keeping the payout ratio to a low 37%. The company also has plans to buy back $3 billion worth of stock for 2015 providing a floor for investors in the stock.
EMC's recent announcement to acquire Virtustream for $1.2 billion in an all-cash deal should be a positive catalyst for the stock. The global cloud service provider will add depth to EMC's cloud data storage portfolio and give customers the capability to move their entire application portfolio into a cloud environment.
Given full year earnings estimates of $1.91, the stock should be fairly valued at $33 per share – a 22% discount from its current price. The second quarter results will be a better indication of whether the weakness seen in the first quarter was temporary as management claimed or indicative of a deeper problem.
Check back to see my next post!
Best,
Daniel Cross
INO.com Contributor - Equities
Disclosure: This contributor does not own any stocks mentioned in this article. This article is the opinion of the contributor themselves. The above is a matter of opinion provided for general information purposes only and is not intended as investment advice. This contributor is not receiving compensation (other than from INO.com) for their opinion.