Facebook (FB) tanked after announcing its recent quarterly earnings despite beating on both the top and bottom-line numbers. In addition to the strong revenue and income figures, user growth across its platform grew by a robust clip and the company authorized an additional $10 billion for its share repurchase program. The culprit was a sharp rise in spending and expenses to contend with a slew of regulatory, user and legal battles the company is waging on the privacy front. This minor sell-off provides investors with a buying opportunity in top tier large-cap company that continues to grow double digits with a long runway for further growth and monetization of its platforms.
Trillion Dollar Market Capitalization
Recently, Google (GOOGL), Microsoft (MSFT), Amazon (AMZN), and Apple (AAPL) have all crossed the psychological threshold of the $1 trillion market capitalization valuation. This is the exclusive Wall Street club of only the select few. Facebook is the next potential company to be crowned a 1 trillion-dollar company and join the prestigious Wall Street club (Figure 1). Facebook's current market capitalization sits at $611 billion, implying a $389 billion market capitalization gap. Facebook needs to appreciate roughly 64% from these levels to joins the likes of Apple, Amazon, Google, and Microsoft.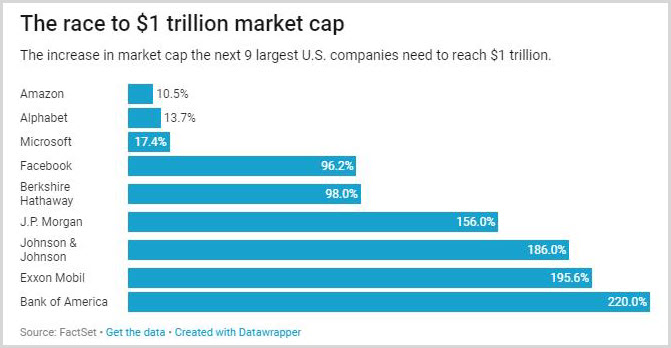 Figure 1 – The $1 trillion market cap landscape back in August 2019 with Facebook in close pursuit and even closer to achieving the mark
Facebook's Unparalleled Growth
Facebook is now testing its all-time highs with a reasonable price-to-earnings multiple when compared to its tech cohort. Facebook continues to post unparalleled growth Continue reading "Facebook Remains Compelling" →