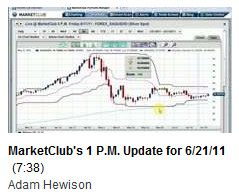 Hello traders everywhere, Adam Hewison here co-founder of MarketClub with your 1 p.m. market update for Tuesday the 21st of June.
All eyes are on Greece as the vote will be taken this afternoon at five o'clock Eastern standard Time. That is a vote of confidence on the last 30 measures and also on the government. As you know, the market has been in an oversold condition and I think today's rally was reflective of that move from an oversold condition. Crucial 5 PM Vote comes in when the markets are closed. If there is a vote that is negative then these markets will come crashing down tomorrow. This is just like gambling in that no one knows what's going to happen with the Greek government. My own view is if they do agree on what they're doing it will just be kicking the can down the road.
Now let's take a look at the markets....
S&P 500: +55. The market action continues to reflect a trading range. Yesterday we mentioned that this market was at the lower range of the channel and expected amounts. Today is that bounce. Major downside support is at $1,250.
Silver: +55. This market continues to contract and it does look like it is getting ready for a move one way or the other. We would wait for our trade triangles to kick in to give us that direction. Market is oversold and expect to see a bounce from current levels. Near term resistance at $39.00. Support at $34.00.
Gold: +100. All systems are go for gold and we expect this market to do better. The Donchian channel has resistance at $1,353 today. Major support at $1,513.
Crude Oil: -100. Today's action in crude oil is very negative. The trend in crude oil is clearly down with all of our Trade Triangles in a negative position. The market did bounce as we expected from the lower levels of the Donchian channel. Look for more two-way action in this market.
.
The Dollar Index: -80. Our indicators are still negative longer-term for the dollar. Minor support at $74.00. Major support at $73.00. Look for a test of the lower line of the Donchian channel which comes in at $73.54.
The Thomson Reuters/Jefferies CRB Commodity Index: +55. We are at the lower end of the Donchian channel and the market is oversold. We would not rule out some sort of bounce from current levels. Market still appears to be in a broad trading range.
Every success,
Adam Hewison
President of INO.com
Co-founder of MarketClub