We asked All About Trends to share another one of their member articles with our Trader's Blog readers after the positive response we received from last weeks article.  Here's the article as outlined by All About Trends in their newsletter dated 4/22/12
In the newsletter for our paying subscribers on Friday we said:
"What we will also want to talk about is what happens if a C wave down of an ABC wave 4 down takes place."
Before we get into the indexes let's take a look at a few blasts from the past as well as a current example of AB Cya's .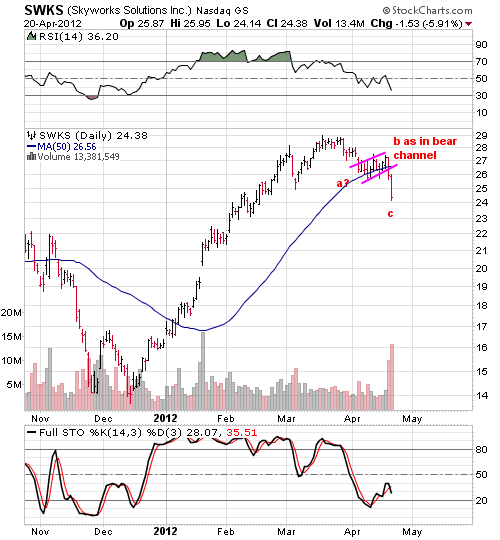 Keep in mind the next two are examples of issues going into full blown corrections vs just an ABC pullback correction type but you get the picture of what a C wave can lead to.
What happens IF we finish off this C wave in the indexes and then retest the highs  (short term bull count) for a double top and then break?  You are looking at what could transpire to a lot of names that are "Standing room I gotta have only" that's what when they finally top. This is why we need to pay attention more so over the next few months as its a big opportunity on the short side and a big net worth destruction on the long side when we truly top and folks it's coming.  Just a when in our book the only big question for a lot of you is going to be "Are you going to be in a position to take advantage of it when it occurs" We'll do our best to make sure you will we'll tell you that. That's why we spend a lot of time on what to watch and watch out for in order to get you prepared in advance vs buy this stock before it goes up 200% garbage you see out there on the net.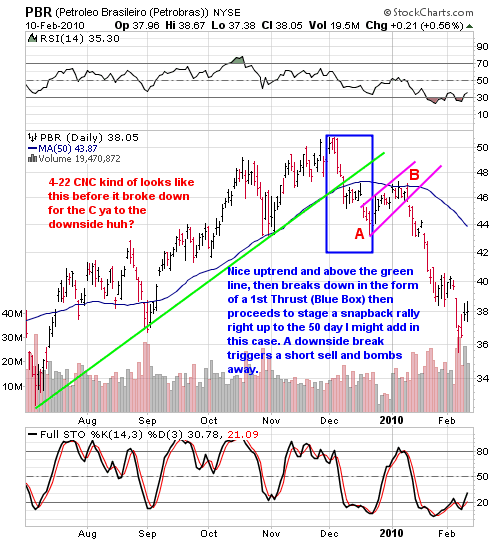 INDEX ACTION
The more we look at the index charts the more we lean to this market having another leg down which would follow our script of an ABC down Wave 4 correction but with AAPL reporting on Tuesday who knows.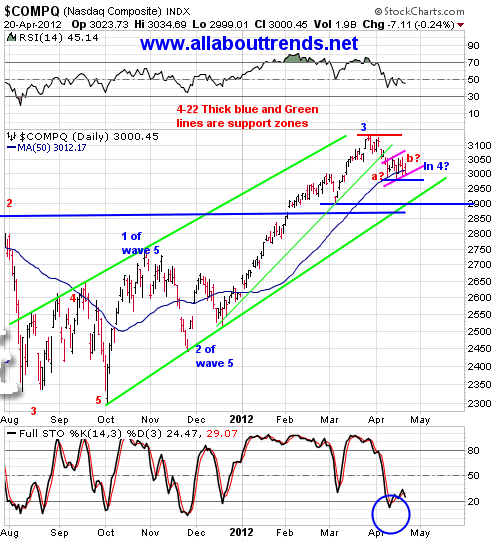 Now that we went through all of that -- here's what we don't know and neither does anyone else as the market is the boss --Just how far down can we go.
Keep in mind the most dangerous thing about targets is that they can form emotional attachments.
Just because something can doesn't mean it will.  This is why we don't issue targets, sure we'll talk about zone BUT we want to remain as fluid and flexible as the market.
We mean heck we could come down to retest the recent lows on the SPX and DOW and that's it.
And if you are one who is counting your chickens before they are hatched you can get yourself in huge trouble as the market goes against you. That's why we take it one step at a time.
NOTE: Keep in mind this is the short term bear count of a traditional Wave 4 ABC pullback. The bull count would be we "Magically" take off to the upside from here. In which case we would have to be on the lookout for a "Change In Trend Pattern" we commonly refer to as a Double Top in the indexes.  Which could be a Wave 5.  Monday we'll talk about those patterns because after all if you are long at a market peak you need to know when to get out right? That's what early warning alert change in trend patterns are for.
We've earned a 81% return in 3 ½ years while the S&P 500 has produced a return of just 6% in the same period.
We have a simple process to help you earn consistent returns in the stock market.
1. We publish a newsletter each Sunday and each trading day that gives you an overview of the market, teaches you about profitable technical chart patterns and how to trade them and includes a watch list of stocks that have completed these patterns.
2. When a stock on our watch list triggers a trade, we send you a Trade Trigger email alert so you can take the trade at the most opportune time.
3. Each newsletter provides updates on our current positions, stocks on our watch list and new stocks added to our watch list.
4. When we are ready to lock down our gains, we send you a Locking In Gains email alert.  With our trade trigger alerts and locking in gains alerts – we make it easy for you to trade in tandem with us!
All of this is available to you for just $29.99 a month.
But since you are an INO member, you'll receive our service for just $19.99/month – that's a 33% savings and is month to month, cancel anytime!
Folks, it doesn't get much better than that. To sign up today, just click here.
You have very little to lose and a lot to gain!
Sincerely,
All About Trends
allabouttrends.net