We've asked our friend Jim Robinson of profittrading.com to provide his expert analysis of charts to our readers. Each week he'll be be analyzing a different chart using the Trade Triangles and his experience.
Today he is going to take a look at the technical picture of Coffee. (NYBOT_KC.Z13.E).
I hope you are having a GREAT week !!!
This week let's take a look at the December Coffee futures chart.
We use the weekly MarketClub Trade Triangle to tell the trend when trading futures and the daily MarketClub Trade Triangle to time the trade.
December Coffee is on a weekly green MarketClub Trade Triangle and a daily red MarketClub Trade Triangle which is just exactly the way we want the Triangles to line up for a buy setup.
If December Coffee trades higher from here and puts in a daily green MarketClub Trade Triangle that is the place to go long because the weekly and daily Trade Triangles will then both be pointing up.
If a long trade does happen in Coffee, then the stop if wrong is if Coffee trades lower and puts in a red daily Trade Triangle.
This is a great way to trade because we are getting long with the trend and will catch all the big trending moves when they happen, while cutting our loses short if the trade doesn't move our way.
If Coffee continues lower from here and puts in a red weekly Trade Triangle then the long trade is off, which is fine, as we are following what the market is telling us, and lower prices from here would cancel the current long trade setup.
Coffee is a Chart to Watch right now, because a big move higher from here could be about to happen.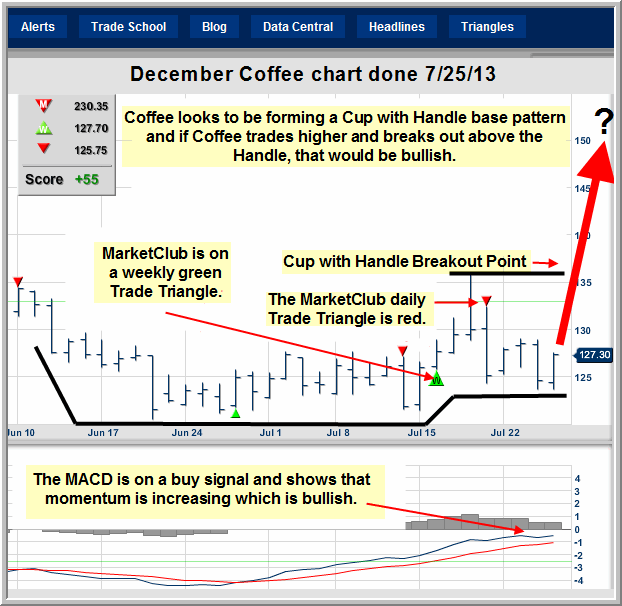 Thanks,
Jim Robinson
Profit Trading.com