Hello traders everywhere! Adam Hewison here, President of INO.com and Co-creator of MarketClub, with your mid-day market update for Friday, the 8th of
November.
The Beat Goes On, Or Does It?
As the indices make new highs, interest rates have turned and are once again beginning to creep up. It certainly appears to be a strong indication that interest rates have indeed bottomed out. If interest rates continue to improve, meaning high yields for investors, I see this as a potential negative for the market in 2014.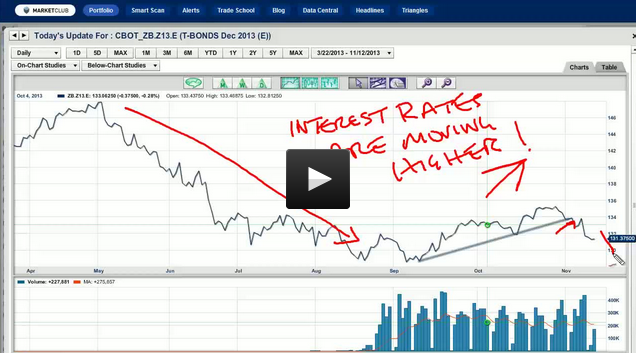 Next year is going to be a dramatic year in the markets in my opinion, as we have a new Fed chairperson, rumored to be Janet Yellen, taking over from helicopter Ben. Ms. Yellen is going to have her work cut out for her trying to clean up the 4-year mess that she is inheriting. Whatever course of action Ms. Yellen embarks on will certainly have major ramifications for the markets, not just here in the United States, but also around the globe.
Did You See This Chart Formation In Apple?
There is a formation being creating Apple (NASDAQ:AAPL) right now that I believe is going to be positive for this stock. However for that to happen, Apple has to close over a certain price point which I will show you in today's video.
Is Tesla Worth Buying Now?
Tesla (NASDAQ:TSLA) began its dramatic run-up in April as the world embraced Elon Musk and his electric car company and peaked in October around the $190 mark. The current correction created a red monthly Trade Triangle indicating that the major trend is now negative for this stock.
Is Facebook Taking On Twitter?
I would like to bring to your attention what I see as the "Achilles' heel" for Twitter (NYSE:TWTR) - they hold no patents on what they do. That being the case, it is not an impossible task for someone to replicate Twitter's success strategy. And who best to do that but Facebook (NASDAQ:FB) with its gazillion followers? As Twitter celebrates its successful public offering, Facebook is pushing into the Twitter's turf as it prepares to roll out a tool that makes it easier for the rich and famous to chat with their followers. It is my opinion that following in the footsteps of Twitter will make Facebook once again cool and more relevant in the minds of teens and Millennials.
I Still Like Amazon (AMZN)
With positive green Trade Triangles in place, what is not to like about this leader in the online e-commerce space?
I appreciate your comments, questions and any feedback you may have on the stocks mentioned in today's post. Feel to interact with us below.
Have a great trading day,
Adam Hewison
President, INO.com
Co-Creator, MarketClub
Adam appears frequently on the following financial news channels as a guest expert. Click on any cable logo to watch Adam's latest appearance.