Hello traders everywhere! Adam Hewison here, President of INO.com and Co-creator of MarketClub, with your mid-day market update for Friday, the 8th of
November.
The Beat Goes On, Or Does It?
As the indices make new highs, interest rates have turned and are once again beginning to creep up. It certainly appears to be a strong indication that interest rates have indeed bottomed out. If interest rates continue to improve, meaning high yields for investors, I see this as a potential negative for the market in 2014.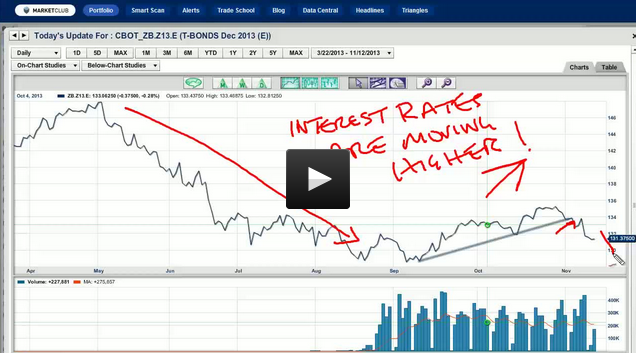 Next year is going to be a dramatic year in the markets in my opinion, as we have a new Fed chairperson, rumored to be Janet Yellen, taking over from helicopter Ben. Ms. Yellen is going to have her work cut out for her trying to clean up the 4-year mess that she is inheriting. Whatever course of action Ms. Yellen embarks on will certainly have major ramifications for the markets, not just here in the United States, but also around the globe. Continue reading "Are Interest Rates Going To Kill This Bull Market?" →